======= NOTICE FOR HELP =======
What happened?
=> I logged off last night in Xardale sector (EU PVE) After warping in and flying to my park location. When I logged in tonight noticed:
The CV was missing - but the 3 docked vessels were still in the location they were at log off.

the 3 vessels (2 SV's and HV) will power on/off etc but will not move!
they are stuck in space.
The CV appears to now be in the playfield that I warped last from. Structure commander below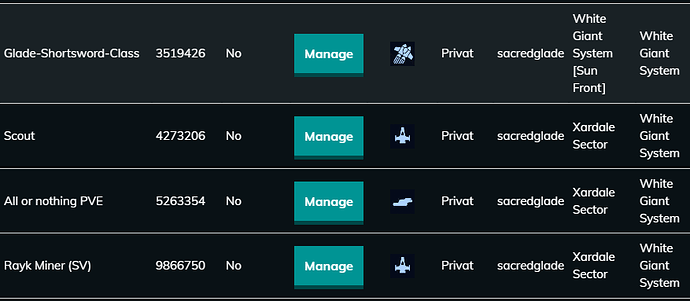 Player(s) with issue? (SacredGlade)
=>
How can we help you now?
=> I am going to try, spawning a warpsled to see if I can collect my CV. And then I may disaseble the 2 SV'S and one HV. So hopfully I will be able to resolve myself - if not I have logged the incident, and will ask assistance…
UPDATE:
My self recue plan has sort of worked. I got my CV back. But when I returned to the Xardale sector the 2 SV's and HV's are showing in different new locations - but are not there when you travel to them - see the SV below. I'll delete them in structure commander if the do not return on my next log in. If not Ill come back for help…