======= NOTICE FOR HELP =======
What happened?
=> Noticed I had gold coins when I logged in and checked connect. Said 22min until yellow containers will be available. Prepared containers to connect for volume restrictions. 01:15 noticed timer reset at 00:00 but did not progress a day and no containers received. Perhaps 30th day of the month is a variable?
Did not think to get screenshot before

(screenshot is from @Vampy my coins received:
21-03-30 21:30 Connect Recovered: 50000xGold Coins)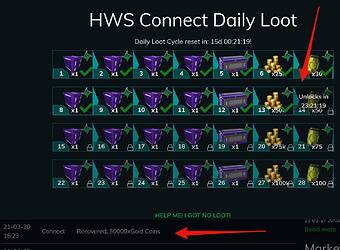 Player(s) with issue? (steam name)
=> Myself and a few others, possibly entire server

Server? (EU or NA or RE)
=> RE
When did it happen? (Use server time: type ingame cb:time)
=> 00:00
On which Playfield?
=> none
Structure Name(s)?
=> none
Structure ID(s) (Open ingame console and type di)?
=> none
How can we help you now?
=> Reporting issue.