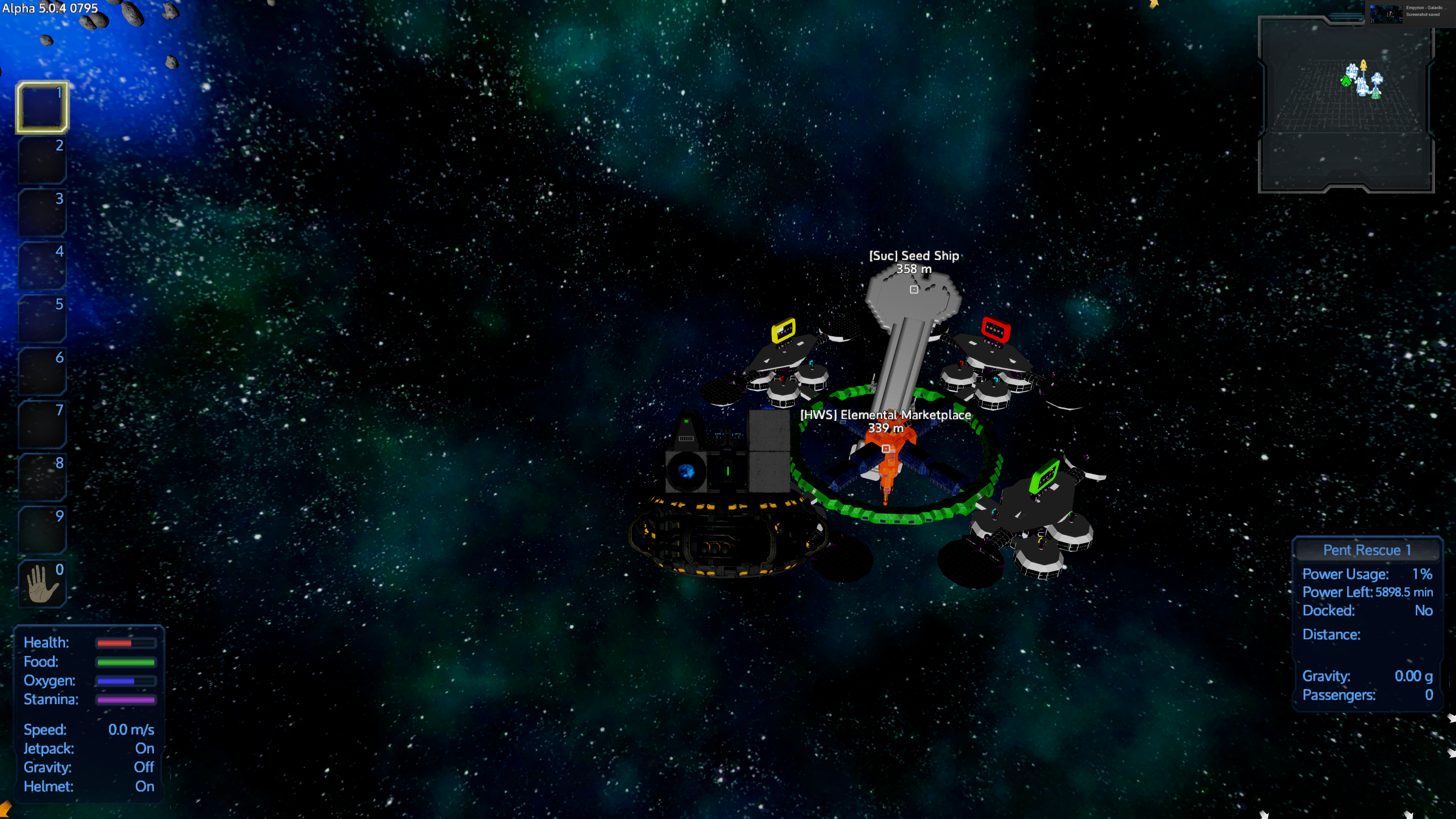 So we have all seen how frustrating it gets for rexxus when someone decides to … "bump" the market place. But this was just too funny, and I did feel bad for laughing at first.
But it leads to a few questions about said market.
1: What happened to the market design where we could walk straight into trading rooms from outside landing pads? those were nice.
2: Why do we not just do one very large shell market, then small bases inside for each market. This would allow the coordinates to not change for the individual NPC rooms if someone bumps the outer hull… lets say accidentally.
I know it took a lot of work to design the current one, and it is beautiful, dont get me wrong. But there has to be a way to prevent a single goober from completely disabling NPC traders.
Finally, a thought on NPC traders: If people used them more (which they are starting to do) they will put real traders out of business. There was mention of adjusting package prices to reflect market costs, but I do not see that being the case when you can get a stack of iron ore for less than 2k, and the lowest an iron ingot has ever been on the market for an extended period is 2 cr per ingot. That is double the npc trader cost. That cost goes mostly directly to someone who donated (which is great, dont get me wrong), but it breaks the economy in the game. I suggest an ammendment: NPC trader owners may sell whatever they want for as little as they want. But Only as long as the trader is supplied. The supplying must come from the owner (or another faction), we will call them noob X, selling to the npc package for about 60% of what the cost of the package would sell that same material. Then noob Y comes along, sees things are in stock, and can buy the package for the marked cost. 30% of THIS cost then goes back to owner of NPC package. It sounds complicated I know, but hear me out. The idea here is that currently, npc traders are just pulling infinite resources out of their pocket, and selling it with zero effort for the trader owner, but all the effort of Rexxus. If those supplies had to COME from somewhere first, it does two things: Brings back supply and demand, which has been brutally murdered by the current setup; and is gives gatherers who have lots of mats but can only post 20 orders at a time an opportunity to sell more. This also means that traders must be a little more careful about what they charge for the package in order to balance both the number of people supplying the package, and those buying.
As I am typing this out, I do see a flaw, in that the person could just post up npc trader sell for one iron ore for one million credits, and sell to himself all day. Ok it needs some tweaking and limits. But the idea is there.