======= NOTICE FOR HELP =======
Please look into disabling the B menu / stats whenever accessed server disconnects for everyone.
Since you for some reason decided to skip the template, this would only be RE server.
It's eleon's crap patch which is causing it. Their fix didn't work

I'm not sure if disabling B menu would fix it.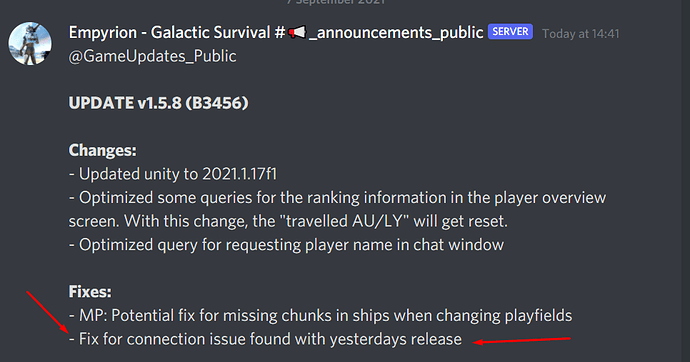 I don't think we could disable it server side even if we wanted to.
I've never seen any such setting and it's not in the configs.
This is something that should be reported directly to Eleon if its happening.
It's not technically possible, but Rex and Jascha found a way to never load any data, or something like that.
It has been done before but was enabled again to test Eleon's patch.
I can disable them and I did


Should reduce the db query strain a lot.
There can be still spikes when players open the galaxy map and hover over planets but it can be processed faster one by one, instead of a 12 second queue from someone who pressed just before B.
it's a great feature in theory but I feel it should dump to a database at a certain interval and then accessed via hws connect. @RexXxuS is that within your powers?
Yeah we had a similar idea. Should not be that hard to do from the outside. We will look into it. Thanks for the idea
This topic was automatically closed 3 days after the last reply. New replies are no longer allowed.