======= NOTICE FOR HELP =======
What happened?
=> Woke to start my TEAMS chore list for the day and discovered my progress has been reset. I do not recall the "exact" number of each but I did reach level 3 last night and was able to run all 4 groups at least one time.
Exact steps performed before mishap:
Logged in at my base on Meta (Bob's Crib - 35214.) Collected daily loot. Pulled LVL 3 teams quest items from OCD. Warped to my taxed CV on ECC (Public Porter - 9750393.) Walked to my usual starting point in "Trade" and the dialog took much longer than usual to show. Did not hit escape or cancel and patiently waited. Eventually this was displaying in dialog.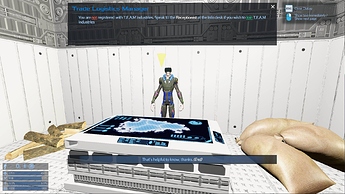 Player(s) with issue? (steam name)
=> Bob
Server? (EU or NA)
=> NA
When did it happen? (Use server time: type ingame cb:time)
=>
On which Playfield?
=> ECC
Structure Name(s)?
=> None
Structure ID(s) (Open ingame console and type di)?
=> None
How can we help you now?
=> Please restore from latest backup if possible.