Hello!
Thank you for such an amazing tool.
After success in creating the main game server, i wanted to add a creative server.
I have created a virtual machine to run this other steam cmd.
I set new ports on the firewall on this VM
I set the router ports to forward these ports and pointed the internal IP to the VM
ran a new steamcmd, and only copied the scenario on the main server to the content\scenario list
used the EAH that came with the steamcmd auto install
set telnet port in the dedicated yaml as well as dedicated_EAH.yaml to use the ports i opened
This is what the result im currently getting:
the EAH on/off icon would not turn green (always red background and black icon)
the game server continually wanted to restart.
the log is not telling me anything useful to my knowledge from the logs folder 4243
the server although running in the background visible on task manager, there is no running playfield server
the server is not visible to public
Anything i need to do differently?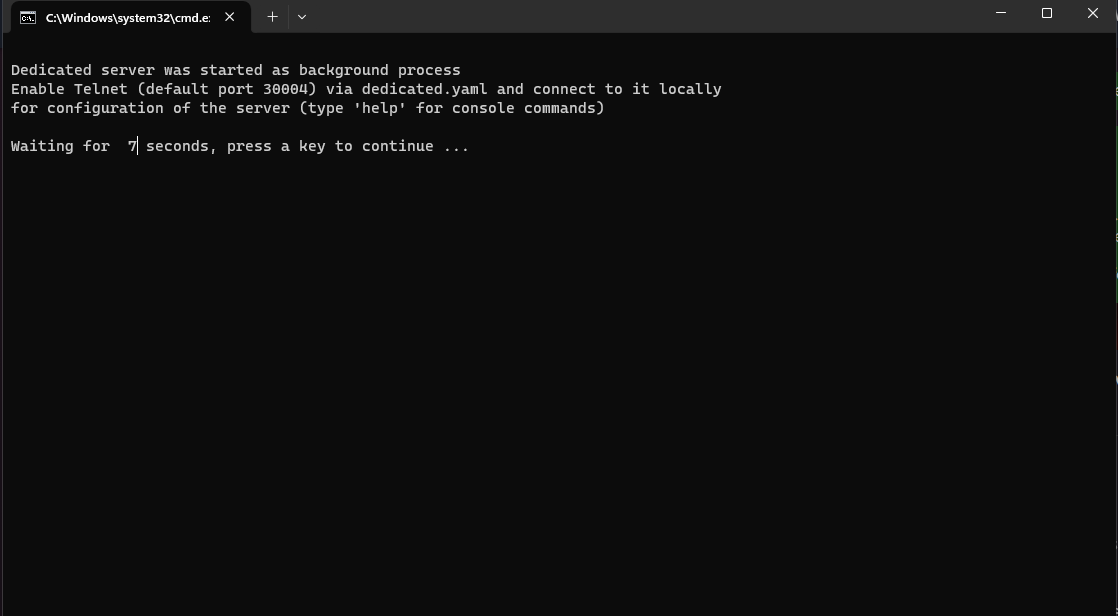 Log:
Mono path[0] = 'C:/SteamCMD/steamapps/common/Empyrion - Dedicated Server/DedicatedServer/EmpyrionDedicated_Data/Managed'
Mono config path = 'C:/SteamCMD/steamapps/common/Empyrion - Dedicated Server/DedicatedServer/MonoBleedingEdge/etc'
Initialize engine version: 2022.1.24f1 (709dddfb713f)
[Subsystems] Discovering subsystems at path C:/SteamCMD/steamapps/common/Empyrion - Dedicated Server/DedicatedServer/EmpyrionDedicated_Data/UnitySubsystems
Forcing GfxDevice: Null
GfxDevice: creating device client; threaded=0; jobified=0
NullGfxDevice:
Version: NULL 1.0 [1.0]
Renderer: Null Device
Vendor: Unity Technologies
Begin MonoManager ReloadAssembly
Completed reload, in 0.057 seconds
ERROR: Shader Sprites/Default shader is not supported on this GPU (none of subshaders/fallbacks are suitable)
Microsoft Media Foundation video decoding to texture disabled: graphics device is Null, only Direct3D 11 and Direct3D 12 (only on desktop) are supported for hardware-accelerated video decoding.
ERROR: Shader Sprites/Mask shader is not supported on this GPU (none of subshaders/fallbacks are suitable)
UnloadTime: 0.530700 ms
31-20:16:37.130 13_16 -LOG- Args: DedicatedServer/EmpyrionDedicated.exe -batchmode -nographics -logFile …/Logs/4243/Dedicated_231031-131636-95.log
31-20:16:37.146 13_16 -LOG- Dedi log path = C:\SteamCMD\steamapps\common\Empyrion - Dedicated Server\DedicatedServer\EmpyrionDedicated_Data....\Logs\4243
Fallback handler could not load library C:/SteamCMD/steamapps/common/Empyrion - Dedicated Server/DedicatedServer/EmpyrionDedicated_Data/MonoBleedingEdge/EOSSDK-Win64-Shipping
Fallback handler could not load library C:/SteamCMD/steamapps/common/Empyrion - Dedicated Server/DedicatedServer/EmpyrionDedicated_Data/MonoBleedingEdge/EOSSDK-Win64-Shipping.dll
Fallback handler could not load library C:/SteamCMD/steamapps/common/Empyrion - Dedicated Server/DedicatedServer/EmpyrionDedicated_Data/MonoBleedingEdge/EOSSDK-Win64-Shipping.dll
Fallback handler could not load library C:/SteamCMD/steamapps/common/Empyrion - Dedicated Server/DedicatedServer/EmpyrionDedicated_Data/MonoBleedingEdge/EOSSDK-Win64-Shipping
Fallback handler could not load library C:/SteamCMD/steamapps/common/Empyrion - Dedicated Server/DedicatedServer/EmpyrionDedicated_Data/MonoBleedingEdge/libEOSSDK-Win64-Shipping
Fallback handler could not load library C:/SteamCMD/steamapps/common/Empyrion - Dedicated Server/DedicatedServer/EmpyrionDedicated_Data/MonoBleedingEdge/libEOSSDK-Win64-Shipping.dll
Fallback handler could not load library C:/SteamCMD/steamapps/common/Empyrion - Dedicated Server/DedicatedServer/EmpyrionDedicated_Data/MonoBleedingEdge/libEOSSDK-Win64-Shipping.dll
Fallback handler could not load library C:/SteamCMD/steamapps/common/Empyrion - Dedicated Server/DedicatedServer/EmpyrionDedicated_Data/MonoBleedingEdge/libEOSSDK-Win64-Shipping
Fallback handler could not load library C:/SteamCMD/steamapps/common/Empyrion - Dedicated Server/DedicatedServer/EmpyrionDedicated_Data/MonoBleedingEdge/EOSSDK-Win64-Shipping
Fallback handler could not load library C:/SteamCMD/steamapps/common/Empyrion - Dedicated Server/DedicatedServer/EmpyrionDedicated_Data/MonoBleedingEdge/EOSSDK-Win64-Shipping.dll
Fallback handler could not load library C:/SteamCMD/steamapps/common/Empyrion - Dedicated Server/DedicatedServer/EmpyrionDedicated_Data/MonoBleedingEdge/EOSSDK-Win64-Shipping.dll
Fallback handler could not load library C:/SteamCMD/steamapps/common/Empyrion - Dedicated Server/DedicatedServer/EmpyrionDedicated_Data/MonoBleedingEdge/EOSSDK-Win64-Shipping
Fallback handler could not load library C:/SteamCMD/steamapps/common/Empyrion - Dedicated Server/DedicatedServer/EmpyrionDedicated_Data/MonoBleedingEdge/libEOSSDK-Win64-Shipping
Fallback handler could not load library C:/SteamCMD/steamapps/common/Empyrion - Dedicated Server/DedicatedServer/EmpyrionDedicated_Data/MonoBleedingEdge/libEOSSDK-Win64-Shipping.dll
Fallback handler could not load library C:/SteamCMD/steamapps/common/Empyrion - Dedicated Server/DedicatedServer/EmpyrionDedicated_Data/MonoBleedingEdge/libEOSSDK-Win64-Shipping.dll
Fallback handler could not load library C:/SteamCMD/steamapps/common/Empyrion - Dedicated Server/DedicatedServer/EmpyrionDedicated_Data/MonoBleedingEdge/libEOSSDK-Win64-Shipping
DllNotFoundException: EOSSDK-Win64-Shipping assembly: type: member:(null)
at (wrapper managed-to-native) Epic.OnlineServices.Bindings.EOS_Initialize(intptr)
at Epic.OnlineServices.Platform.PlatformInterface.Initialize (Epic.OnlineServices.Platform.InitializeOptions options) [0x0000f] in <6a98b88b0b2349aeb36c8dc3e79ee306>:0
at Assembly-CSharp.BitmapList.DeleteProcess () [0x0003d] in :0
at GameStartup.Awake () [0x00106] in :0