I downloaded EAH lite. I tried setting up using the guide linked at the bottom of this post. I have gotten to where the ftp seems to be connected.


But when I go to click connect it never turns green. When I go to pull up the config again it shows.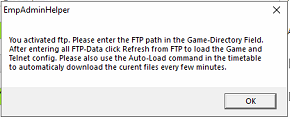 Not sure what to change as the config is in the home folder of the FTP address.
Link to tutorial I used
https://hosthavoc.com/billing/index.php/knowledgebase/169/How-to-connect-to-your-server-using-Empyrion-Admin-Helper.html