What up first to Everyone.
Im Asking to Collect "Votes" from Eu & Na to let Rexx Change that "oldskool" bounty system.
We all Like it we all Love it … but in the end some "we say selfcalled pros" all time set just 1Cr bounty to see (on the board where the ppl are edit : i know actualy 10m first but ->) i mean "makes no sense" at all 1cr … no one will get his A… up for it …
So i Request for Bounty Hunt system "real hunt offers" No 1cr Trolling more …
a Minimum of 100k ! (90% of the Bounty system only Veterans use…)
maybe it will helps with bugs too if people not Spam 1Cr bountys.
edit : "we got some probs multiple days means "bot perm spam: 1cr bounty on you that 1hr long" self after relog (multi times) it not go away to prevent that too"
Cheers to all Make your Vote Love or Comment no Trolls pls and no stupid awsners ty stay calm and relaxt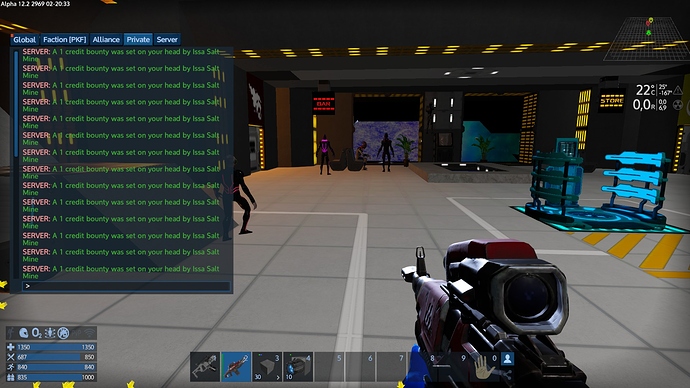 | 20-07-02 22:31 | Bounty | A 1 credit bounty was set on your head by Insap |
| --- | --- | --- |
| 20-07-02 22:28 | Bounty | A 1 credit bounty was set on your head by Issa Salt Mine |
| 20-07-02 22:28 | Bounty | A 1 credit bounty was set on your head by Issa Salt Mine |
| 20-07-02 22:28 | Bounty | A 1 credit bounty was set on your head by Issa Salt Mine |
| 20-07-02 22:28 | Bounty | A 1 credit bounty was set on your head by Issa Salt Mine |
| 20-07-02 22:28 | Bounty | A 1 credit bounty was set on your head by Issa Salt Mine |
| 20-07-02 22:28 | Bounty | A 1 credit bounty was set on your head by Issa Salt Mine |
| 20-07-02 22:28 | Bounty | A 1 credit bounty was set on your head by Issa Salt Mine |
| 20-07-02 22:28 | Bounty | A 1 credit bounty was set on your head by Issa Salt Mine |
| 20-07-02 22:28 | Bounty | A 1 credit bounty was set on your head by Issa Salt Mine |
| 20-07-02 22:28 | Bounty | A 1 credit bounty was set on your head by Issa Salt Mine |
| 20-07-02 22:28 | Bounty | A 1 credit bounty was set on your head by Issa Salt Mine |
| 20-07-02 22:28 | Bounty | A 1 credit bounty was set on your head by Issa Salt Mine |
| 20-07-02 22:28 | Bounty | A 1 credit bounty was set on your head by Issa Salt Mine |
| 20-07-02 22:28 | Bounty | A 1 credit bounty was set on your head by Issa Salt Mine |
| 20-07-02 22:28 | Bounty | A 1 credit bounty was set on your head by Issa Salt Mine |
| 20-07-02 22:28 | Bounty | A 1 credit bounty was set on your head by Issa Salt Mine |
| 20-07-02 22:28 | Bounty | A 1 credit bounty was set on your head by Issa Salt Mine |
| 20-07-02 22:28 | Bounty | A 1 credit bounty was set on your head by Issa Salt Mine |
| 20-07-02 22:28 | Bounty | A 1 credit bounty was set on your head by Issa Salt Mine |
| 20-07-02 22:28 | Bounty | A 1 credit bounty was set on your head by Issa Salt Mine |
| 20-07-02 22:28 | Bounty | A 1 credit bounty was set on your head by Issa Salt Mine |
| 20-07-02 22:28 | Bounty | A 1 credit bounty was set on your head by Issa Salt Mine |
| 20-07-02 22:28 | Bounty | A 1 credit bounty was set on your head by Issa Salt Mine |
| 20-07-02 22:28 | Bounty | A 1 credit bounty was set on your head by Issa Salt Mine |
| 20-07-02 22:28 | Bounty | A 1 credit bounty was set on your head by Issa Salt Mine |
| 20-07-02 22:28 | Bounty | A 1 credit bounty was set on your head by Issa Salt Mine |
| 20-07-02 22:27 | Bounty | A 1 credit bounty was set on your head by Issa Salt Mine |
| 20-07-02 22:27 | Bounty | A 1 credit bounty was set on your head by Issa Salt Mine |
| 20-07-02 22:27 | Bounty | A 1 credit bounty was set on your head by Issa Salt Mine |
"See in Dashboard" who you killed … Good agument but … see self … that sucks hard