Dear HWS Community,
this will be a little bigger post after awhile again, grab something to drink

After a lot of thinking about the recent months and regaining motivation slowly, I wanted to release this mid season patch and a roadmap of what I plan to do with HWS.
Happy Valentines Day
No matter if you are Single or not, we tried to provide a nice Event for you either way.
IF you have a best friend though, please try our new Valentines Day Event Mission in EGS HQ.
It has some nice goodies for you inside and if you are a HWS Patron, even a new Skin item.

This ultra unique love glasses with ultra love zoom

Just make really sure to use Voice with your friend to coordinate Coop puzzles inside in a good way

@Ju always wanted to do a Coop mission with a special touch, so we hope you like it.
The Valentines Day Event will run 1 week, until Sunday, 21th Feb. 11pm.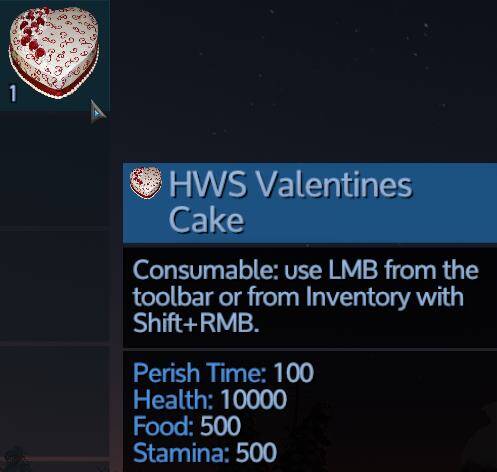 New Stargate Missions
It took me too long to implement but finally, 3 new Community Contributions came in. Thanks again to @FionnMacCumhaill and @Sparco
The missions are:
They are all insane and each needs a team for sure to succeed. Good luck!
Event Reincarnation
First of all, it's not really an Event, but "The Sphere" is finally back too!
Find it in the Black Hole for big rewards and a PvE POI challenge, you won't forget.
The Battle Royale, Eton, Tower Jumper and Quake FPS Events are starting tomorrow (to focus today on the Valentines Event). At the beginning it will be test driven. Especially the Format about our Queue based Event System.
It means Eton for example does not run daily anymore statically but as soon as you want it. Someone is the Host, calling others to join and the Event Manager will host the Event then. This is the plan at least. It's new and I have to test it in combination with the Planet claim duration still.
If it does not work on Events like Eton, where you get a whole Planet as reward, I plan to run the Event weekends and not daily anymore.
The main reason I did Eton every day back in the day was, we had not much Events in the first place.
My goal is to create 7 cool Events, that run every day each. If you do not like one of it, you can wait for the other.
HWS Roadmap
Last but not least the HWS Roadmap. The biggest topic of everything actually. I spent a very long time thinking about.
I could write many pages about the current feeling of the game, about my current status with HWS but I doubt it's interesting for you, so in terms of things for you to know, here it is.
HWS Reforged Eden (HWS RE)
I plan, probably around 1st March (5th Year Anniversary), to start a new, third HWS Server, running Reforged Eden on it, in combination with all HWS Features*.
That means HWS Connect, OCD, EGS Recycle and much more, you know and like already.
BUT with some crucial changes overall I want to highlight quickly:
100% PvE Reforged Eden
No Cross Server Warp, because it is not possible in the first place (too many different items, configs, etc.)
BUT a new mechanic called "Cross Events / Cross Missions". You get important items on HWS RE you need on HWS EU / NA and vice versa (not mandatory, just you know, prestige).
OCD will work differently on HWS RE to respect the immersion of the Scenario. OCD will only work in OCD Zones, even if you have OCD Level 5-10.
The EGS HQ in the Center will be your Zone and Hotspot to always meet other people and use the core HWS Features (Bank zone, etc.)
Alright, wait wait wait. Now, what about HWS EU / NA? And why Reforged Eden?
To be honest, Ravien and Vermillion are doing a great job and it is not unseen by me. You know already I use already some of their stuff (e.g. Grenade Launcher) in HWS EU/NA already but always had a conflict in me about it. Cause it's a fact that HWS and Reforged Eden can and will never ever be able to merge. Our Configs are too different, Reforged Eden is a PvE focussed Scenario and some Story conflicts are just too big.
Still, I got requests about that and I saw the opportunity to enhance RE with HWS Features, so it maximize our 5 years experience running HWS already and expand it to a kind of new player base.
That being said, I rather see the HWS RE server as a new entry point for new players than our Veterans, especially PvP Veterans of course. Still, maybe they want to chill in a big PvE Story with their friends too.
And it is how it is… the last 1-2 years I was very deep burried in PvP dramas and Bug hunting sessions, so my Story and Content got more and more drifted away from me - with full regrets and sadness I have to say.
Nevertheless, my plan is not to forget about HWS EU / NA now.
Not at all! Since I create a strong PvE fundament on HWS RE, my plan for HWS EU / NA is leaning more towards PvP there.
I will concentrate on more PvP Events (Casual style), more PvP gameplay elements and eventually rebalancing HWS Features towards the core PvP driven mechanic available: territory and resource conflicts.
However, PvE on the other side, the Elemental Stone Story, the EGS HQ Missions, our Clone Story etc. will be perfected and converted into a PvE Campaign.
This is my plan for 2021.
TL;DR:
HWS RE = long term PvE gameplay to chill with friends or alone
HWS EU / NA = PvP focussed Events and resource / territory driven mechanics boosted
HWS EU / NA = Coop/Solo/Big Faction PvE Campaign and mechanics (coming reworked [Commodity] Economy) to support the PvP players in their combats and doing dedicated challenging PvE Missions.
Please let me know what you think about my plans or if you have questions.
Either way, we wish you a nice day, thank you for your support and patience in the current difficult times with Empyrion and hope, you enjoy your stay here on HWS nevertheless!
Your HWS Team