Hey @everyone,
I had to do another task before finishing the HWS 8 universe:
GDPR — General Data Protection Regulation
Some chair men / women thought it is a cool idea to swing a big hammer, not well thought out until the end but so be it.
It is and will be a grey area for game servers, multiplayer games in general but regarding the §§ they have technically the same responsibility to take care of privacy as any other company / website as well. Even a nickname in the internet falls down under GDPR.
I don't want to bore you with details but just let you know that I did my part in making HWS ready for that law.
Forum
The forum (software and its community behind) has some options to delete all of your posts, let you download all the content you created here and anonymize you, which means you are history then.
HWS Website
For the website we have as always our privacy and tos page.
HWS Connect
This is a bit more tricky so I took some time to program you a nice little popup. As soon as you agreed, it won't show up anymore until you clear your browser local storage. However you can always display it in your Hotview settings again.
This popup will greet you in HWS Connect now: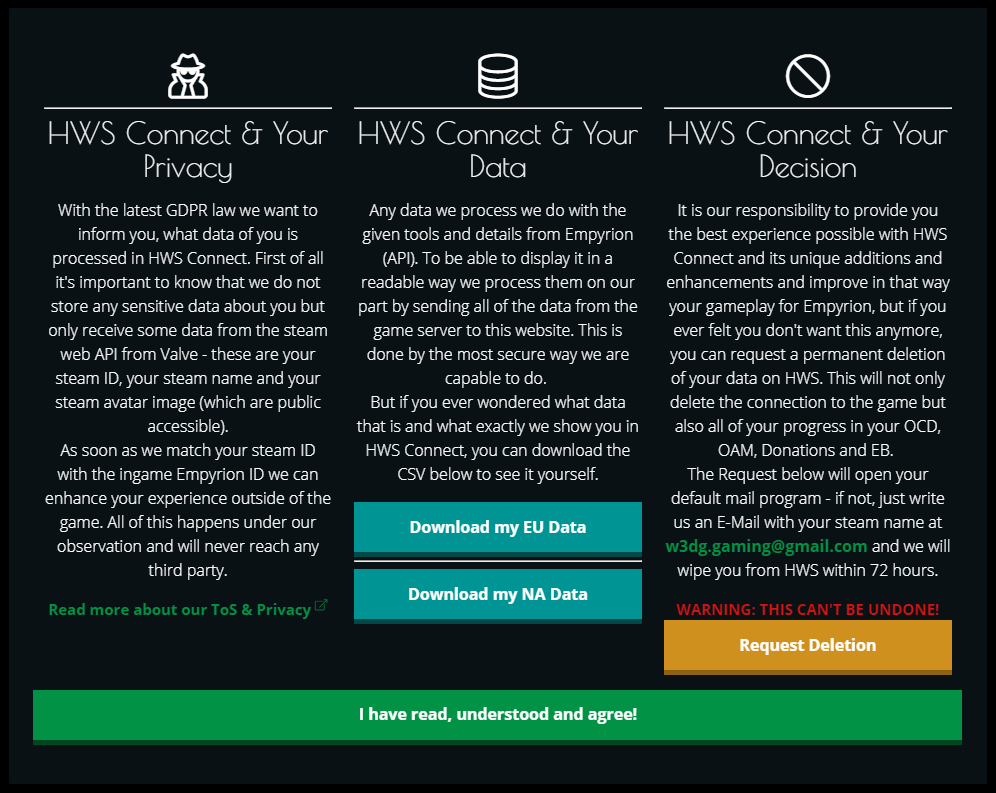 It's important for me / us that you feel good at HWS and I know for some people this is an important topic so I took responsibility for that.
---
I hope I can focus now on the HWS 8 universe because it is still a long way to go

Your HWS Team