======= NOTICE FOR HELP =======
What happened:
=> Parked my ship 'DenaVici 2nd CV' (11722477) in 'Nova Orbit', About 15k from Nova.
After my SV & I traveled about 200m away from the CV, I used the command 'egs:stealth

11722477'
After 90 minutes of mining I returned and tried unstealthing my ship with the command.'egs:stealth:off:11722477'
The ship was no where to be found, and I soon learned through HWS Connect Structure Commander that my ship had been deleted.
Player(s) with issue:
=> DenaVici
Server:
=> Na
Time (cb:time):
=> 20-03-06 10:13
Playfield:
=> 'Nova Orbit'
Structure Name(s):
=> 'DenaVici 2nd CV' (11722477)
Structure ID(s):
=> 'DenaVici 2nd CV' (11722477)
How can we help you now:
=> This is the second ship I've lost.
After my last ticket about a stored factory ship that disappeared after Cross Server Warping & returning, I followed your comments on another thread about blueprints from the factory being saved client side.
'Some tickets being answered incorrectly'
Is the loss of my new ship,'DenaVici 2nd CV' also due to a possible error or connection issue on my part?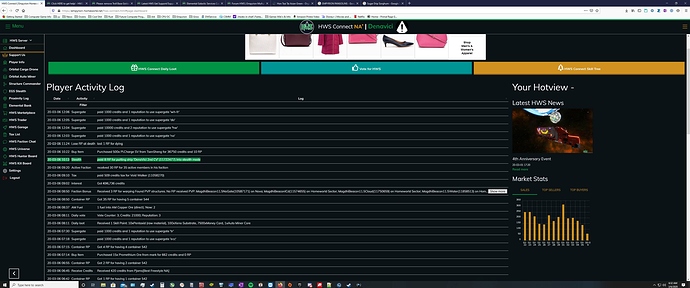 Can you please provide some insight into what may have happened, what I did wrong, or what I can do to help prevent future losses?
While I have enjoyed playing on this server immensely, it is rather disheartening that I'm experiencing these problems.
Can you re-instate my Stealthed CV to the non-deleted version?
Thanks,
-Vito, DenaVici