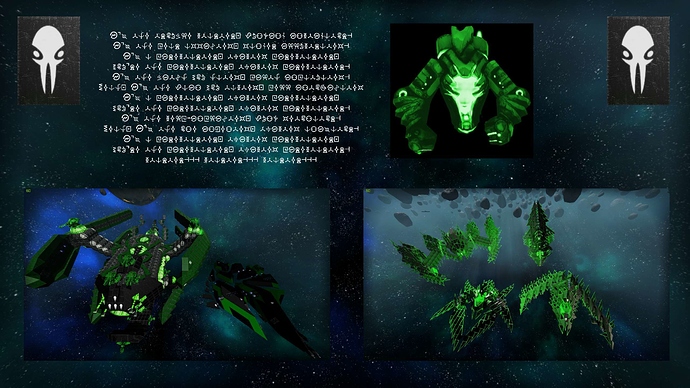 Hey Community,
I have some troubling news….
We received a message from the Aliens over at Alien world. Lucky one of our top translators 'WhiZzle' was talented enough to bring to light their intentions.
We have received further Intel that leads to some quite distressing outcomes.
Again with help we have managed to translate, in short. The Aliens have united, they are organised and they are coming.
Where you ask? Everywhere!
They have somehow managed to develop the ability to control Ships? Maybe we were sloppy and left too much of our advanced technology on their planets?
Either way no one is safe, They follow no code….Traders, Pirates, Hunter and Alliance….this means nothing to them, They seek only 1 group…….Humans
As if the universe wasn't deadly enough, We have no choice but to help one another when the time comes….It is us or them right?
The message confirms that 'Slaughter of the human race' will begin on this very day, what worries us the most is that it seems they are building, growing stronger and gaining in size…
The last piece of the message says…
5.0
Whatever this means? Is this the day they truly unleash their power, for the sake of all of us I hope not…
Knowledge is power, this is what we know:
Aliens are not greedy – They would never loot a human, never grief a human, never use exploits to win. They fight, Fair…unlike us, maybe this is why we have doomed ourselves?

They carry their cargo with them on board their ships and in their bases, they hold the key to the 'Epic Weapons' and so much more. We know they do not have abilities like the Orbital cargo drone

They are NOT humans, never will you see a human in a cockpit, or in a base…only aliens

They do not speak our native tongues

They only build on their own planets, maybe there are more than what we originally thought….

The only place you're truly safe is PVE, although they do they small outposts on each planet. They have been easy to take down in the past, hopefully this won't change.

Their Ships, They are alien…they are not built like ours, they should be easy to spot.

As they are aliens their bases are alien core which means completely controlled by AI…so ofc can never ammo drain or be grieved by the CPU turrets.
We wish you all good luck out there, god save our souls.