Good Morning HWS Community,
after almost 2 weeks of our HWS 12 Reloaded season start I draw a line and make a summary.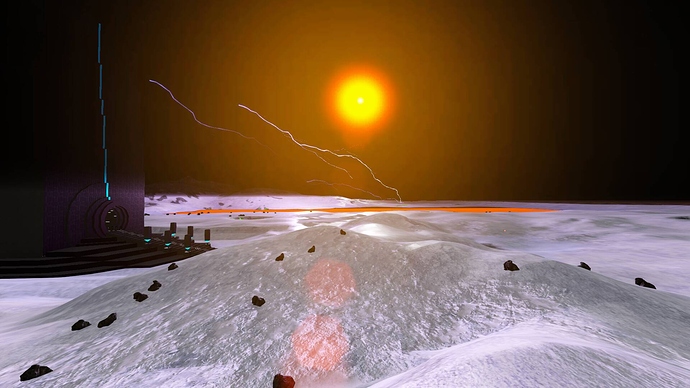 Galaxy
As everyone else I was hyped about it - even though time was missing to fully utilize it.
Nevertheless I expected issues month ago already and came up with the Big Bang idea. Natural limitation and slow increase of Solar Systems along the way. With the intention in mind that if something goes wrong, we can stop the Big Bang expansion.
The Galaxy is hands down a Singleplayer Feature, that is for sure after everything I saw and analyzed. At least more than 1000 Stars or how Eleon just dropped it live.
With heavy customization within the Galaxy config files it might work in a better way but that needs a lot, a lot of time to do.
To be honest exploration, with some other Alpha 12 features is awesome in this game. If each Planet and space would look different. If on each planet and space would be different POIs and then on top of it, every time different Missions / Quest… it would blow our all minds.
Combined with some more Multiplayer additions like Territories for factions? Conquering whole Star Classes it would create that deep gameplay we are all expected to see for Alpha 12 already, maybe.
But no, some of that isn't possible yet and the rest needs time, like a lot guys.
I love Empyrion as Owner cause no other game gives you so much possibilities to customize it for players. But 99% of customization in this game is manufacture work. No automatism really.
I am already working on HWS 13 and to at least give you 100 different playfields instead of the 10 right now.
Still, the current state is horrible and I hoped for patches but no, there is no wonder helping anymore it seems.
Why? Because it is technically not even possible. Let me show you:
The Template folders on HWS NA (if a Star is entered, all playfield.yaml files are loaded and written on the disk):

The Playfield folders on HWS NA (that many playfields [Planet/Moon/Space] were visited by you, the players so far):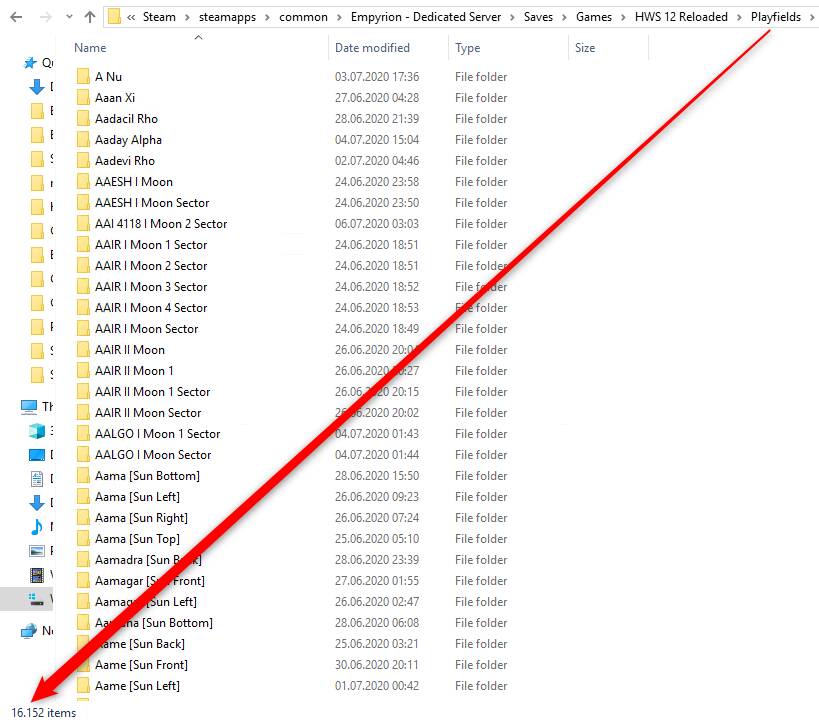 On HWS EU it's few thousands less.
Now, I'm not a Software Architect nor a Hardware Architect but skimming¹ the² web³, you get roughly the idea that the more folders / files you have the more strain for Windows it becomes. Especially if you work with them (making backups, if you fly over terrain, the area files needs updating inside those files, etc.)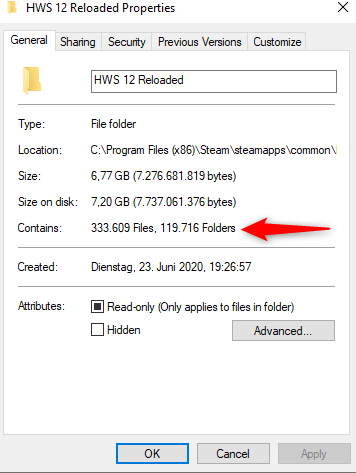 Okay, so that are internal Windows issues with all of that Galaxy stuff.
On top Alpha 12 gave us Databases. A Database is like an optimized Container. You put stuff inside and it gets categorized, sorted, filtered - ideally on the right place…
Looking up for those sections inside the Database is called a SQL Query.
If you press B for example and check the Statistics who drilled the most Gold => it's a SQL query, looking for that specific data in the Database.
And the more data there and the more players calling this SQL Query, the more time and performance it consumes.
In relation to the Galaxy, there is just a lot of data incoming, right.


I mean the Database is only after 2 weeks already 1,1GB big


It really just adds up in count, time, performance drain.
All of that tells me at least: nope, so many stars for MP is nonsense and I make the well-founded statement, that I tested it and does not approve it for HWS for the future.
So, that brings me to the forced reaction to stop the Big Bang expansion as explained above.
From the 450 Light Years radius we are currently at 144. That is about 4000 Stars from the 7000 Stars in total. There are still hundreds of Stars not explored yet. All Star Fragments will be put within those 4000 Stars, so you still get the chance to fully discover this new feature.
The moral of the story is really: better to have less but unique and interesting Stars, than thousands of repeating Stars, causing nothing than problems.
And yes, while this is a case for Captain Obvious, it was my responsibility to test it until the bitter end.
Overall I don't want to do a full wipe though and or because I can't tell you the details of HWS 13 about that yet.
I will do tests with 100-500 Stars but ideally each of them has a purpose. We will see!
Disconnects, Missing Ship (parts), Corrupt logins
And then there are still those issues we can't hope for a fix either. In theory all issues I explained above might be the result to them but there are year old bugs, which are still in the game.
However we did some more tests and crawling and @Jascha found out that one issue is coming again from those CPU Process Weight System.
If for example ECC Sector, ECC and Binomi Sector all share one Process and suddently ECC becomes dead, then ECC Sector and Binomi Sector will be forcefully killed after 10 seconds. Even though the other 2 playfields were fine!! This is absurd and the whole Weight System becomes redundant.
Additionally, if one playfield gets killed, even though it was running fine, THAT is the reason why your structures sometimes have huge missing chunks in them! Or worse…
Today and tomorrow I try to forcefully set each playfield.yaml in the inner fixed HWS Galaxy to 100 PfWeight, so each of them get their own CPU process.
The main benefit of that in Alpha 11 and why we used it was because our HWS NA server ran out of RAM. But now… we don't need to care anymore.
The corrupt logins and disconnects might get better with the next patch but I don't know really. As I said I'm tired of spending 6+ hours a day in bug finding and doing a Developers job.
I finally want to balance HWS, improve HWS, create a HWS campaign and much more.
That being said improvements will come still but I hope you have the patience and endurance for a "lesson learned" HWS 13 season, where I clean up and make it better.
Sorry to those (including me) who had much higher expectations…
Round up
Last but not least you can expect all HWS Events coming this week/weekend as well as some NPC Trader returning and some other polishes.
Thank you all for sticking through this and be sure… we really give our best, day and night, to give you a great time on HWS!
Your HWS Team