This topic will contain a table of contents


The Economy Utility Tool is a specialized tool for HWS. It'll analyze your economy, and give you a huge insight into it, and by using this tool efficiently you'll be rich in no time.
Changes (Version: 2.02)

Primarily I updated the spreadsheet for Alpha 12, so you'll see Titanium and Ice Blocks under the Orbital Auto Miner category. Then I also added a box called Fragments up top, so you'll be able to see how getting more fragments would affect your economy.

Some other minor changes and fixes.

1. Just download it from below and extract (I suggest using 7zip, or Winrar), and you're ready! I really suggest you read everything on this page to get an understanding of how to use this tool.
Economy Utility Tool 2 - public version.zip (90.8 KB)


1. This is the more complicated part. In the spreadsheet, the absolutely most important part is the top. You'll be able to fill in info into the orange fields, and then the non-orange cells will automatically adapt.
2. Once you've filled in the top orange fields, I suggest you just try playing around. It's the best way to learn in this case. If you get completely lost, feel free to contact me and I'll attempt to explain it. You might also be able to solve your issues by reading the Explanation part below. Good luck!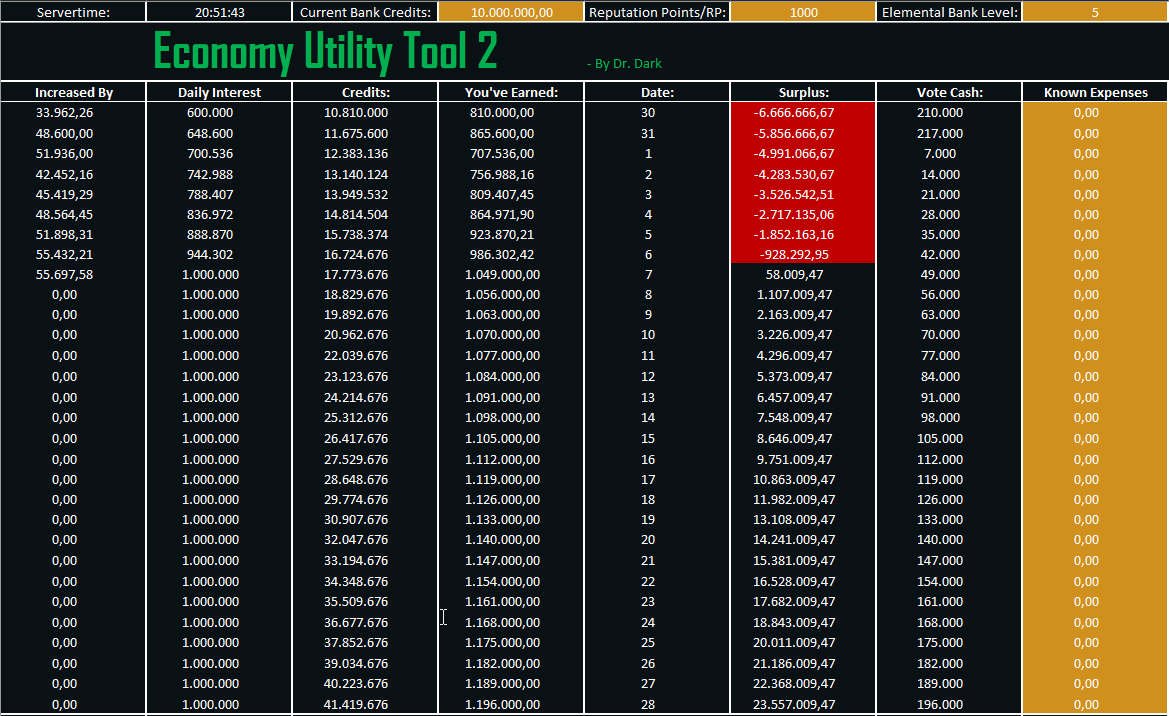 … and more!

This is a very advanced spreadsheet, and it'll definitely seem confusing the first time you use it, but once you first understand "the system", you won't regret it.
Your Goal:
Maybe you'd like a new garage ship, but would it be smart to do that now? Wouldn't it hurt your economy? Not using this tool. It'll tell you exactly when you're able to upgrade, so your economy won't be affected by it. This is a smart tool to use with the Elemental Bank since it won't make you upgrade until you earn more interest than you currently do. There's no reason to upgrade the bank early, just to lose credits on it.
Orange Cells:
The orange cells are the cells you can safely edit. You won't be able to cause a lot of damage by only editing these. If you're colorblind… Well… Good luck!
Red Cells:
These indicate something is wrong. If you see them by your Surplus, it means that you aren't earning maximum interest. You might want to look a little closer on the Your Goal Tool if you're having this issue.
Another place you'll be able to see a red field is the Missed Votes cell. You'll only see red here if you missed more votes than the current date allows possible. For example, if you say you missed 29 missed votes on the 28th.
It told me to upgrade Elemental Bank, but I'm not earning max interest now:
This is a very smart tool.
It'll make sure you don't upgrade your bank too early, and also too late. It will suggest you upgrade your bank exactly when you earn more than you currently do. For example. If you have EB 1 and want to upgrade to EB 2. The maximum interest for EB 1 is 175.000. So the tool will make you upgrade once you'll get 175.000 in interest AND you can afford to upgrade. So I Really Suggest you upgrade when my tool tells you to. At least unless you're planning on buying something else.
Why does it say
#NAME

? all over:

This is a bug which means your excel is outdated. This spreadsheet will only work in MS Excel 2019 or Office 365.
But you can work around this issue by using just about anything else than Microsoft.
LibreOffice, or just uploading it to Google Drive is enough


If you can't fix it feel free to contact @Dr.Dark.
Can I use this tool for both EU and NA:
Yes and easily. If you go look down at the bottom of the spreadsheet you'll notice it says EU and NA and Hidden values. The hidden values you should just ignore. But EU and NA you can click depending on which server you're on. Then you can easily see your economy for both servers!


Please also tell me how your experience has been using this tool. If you have any feedback or just a simple question, feel free to contact @Dr.Dark or Dr. Dark#0555 on discord
Great!
Good
Okay
Bad
Horrible!
If you'd like to improve your economy, even more, I suggest you read this guide below by H1myname1isdav1d. It's also very useful, and if you use both that and this tool, you'll be rich in no time


H1myname1sdav1d's Mid-Game Economy Guide!
This topic will contain a table of contents
(Note: I can't update this tool for you, so you will have to come back here when an update is released. It won't happen very often, and it'll never be required for you, in order to continue using it.)