Hey @everyone,
so some already settled, some still searching for their best place to live.
During the night and some feedback we releasing now with the 5PM restart a little patch to HWS.
New restart times
We are now making a little exception and going to ease our lives a bit more. For some time we have been speaking in "server time" and it has made it easier in many ways. A natural progression to make life easier for us (admins) is to consolidate to ONE universal time so that when we talk and share logs, its easy and consistent. It does change how we talk about our restarts, however, and since we are adding a third restart lets remind ourselves - we speak in UTC +1, aka "server time":
Restart times are now equal on all three servers. Which means in more detail:
9AM (Tax check, Interest check, PvPvE toggle, etc.)
5PM (Black Hole EU wipe)
11PM (Black Hole NA wipe)
These are the restart times and other 'features' will be be aligned to these times as well.
(Quick conversion help. 9AM "server time" = Midnight Pacific; 5PM = 8AM Pacific; 11PM = 5PM Pacific)
Gameplay change to Xion and Sienna and Ju
Having three easy friendly perma PvE planets wasn't the best and last minute idea yesterday. After some thoughts and requests here is the new way of the three planets giving them a real purpose:
Xion
PvPvE rotation:
Monday -> Friday = PvE
Friday -> Monday = PvP
This should give people on the weekend a breath to play
Sienna
PvPvE rotation: Monday -> Friday = PvE
Friday -> Monday = PvP

Origin rotation:
Monday -> Wednesday = Only Trader Landing Permission
Wednesday -> Friday = Only Guardian Landing Permission
Friday -> Monday = Everyone Landing Permission
The idea here is to show if Guardian and Trader can build and defend together. Monday - Friday the planet belongs to them and let's see how they beat the intruders at the weekend!
Ju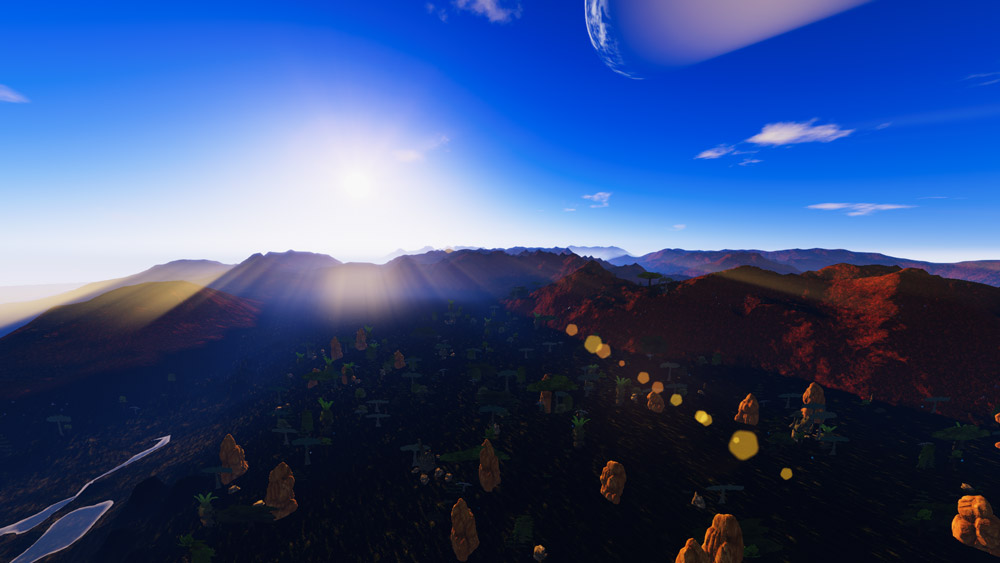 Ju is meant as a beautiful but harsh planet. It is permanent PvE but with a little price: surviving!
Last but not least we want to encourage people to really live permanently and peaceful on PvE if they have the needed Reputation Points for the Xeno and Nox planet.
---
Taxes
On each PvP space playfield except Xeno and Nox Nebula we applied taxes now (Homeworld Space + X Nebula). Basically the lags, disconnects and problems there should not be the perma drama anymore and we hope we reduce it with this change.
You get also Attention messages in almost each space playfield now.
---
Current feedback QA
Q: Why do I don't get RP on Pirate Starter although I am on killing spree?
A: Nice that you did it with a pistol, stone or potatoes but you NEED your epic minigun for getting RP! Read please:

Q: Are meteorites still buggy / only one type?
A: since there is a max. of 30 meteorites per planet it can happen that one resource type is just over populated. Either get rid of them or wait. With the next patch we can control these better though
Q: CSW -> Donator Planets
A: As expected the cries, complains and massive lack of understanding (well, nobody read anyways) are very high. It is a new system. People need to get used to it. It is still under observation. Just a little hint: less asking / flaming: more reading.
@Jascha will look into rare cases where ships get lost. We don't know why yet since it is working all the other times perfect.
Q: PDA Trader mission not working
A: I am on it. For now not understandable why it works sometimes and sometimes not.
---
We hope not everything is so negative and we like to hear also positive feedback (surprise)


Have fun!
Your HWS Team