Hey @everyone,
a quick update of what is coming this week before I go to vacation from Thursday till Sunday.
Wednesday = patchday
On Wednesday 23.08. 9AM (GMT+1) couple of things will change or better to say: adapt to the promised changes for 6.X.X
Surface wipes for the Homeworld Sector
We skipped it but then we will run the surface wipe for all Homeworld Planets.
The reincarnation of Armageddon will come in 7.0 due missing time
We also surface wipe Golden Globe again and in general all these planets on regular basis.
Every Wednesday morning there will be the surface wipe to provide fresh clean resources.
New Tax logic
After a lot of feedback I decided against all orbit taxes but instead implementing a dynamic tax system. Giving the choices and gameplay more to you rather than to us.
As soon as any playfield reaches 200 cores it will be automatically taxed. If it drops below 200 cores no taxes have to be paid (except CSW, ECC, Penthouse and the starter systems)
This means basically two things:
this is the reason why on Wednesday the global scan cost you only 1RP instead of 150 RP and check easily how many cores are on what playfield. Make sure to check out the guide for that feature - otherwise you might wonder why you lose 2 RP per day ( Origin Abilities ).
it should motivate you to respect the capacity of the game performance and move to another place if one playfield is too full. Combined with the debt change soon that if you are in debt structures get automatically seized it will be all handled in auto mode
New Missions
Another bunch of missions will be released on Wednesday.
However remember to restart your game after the server restart also to have the new missions visible in your PDA, otherwise you only see something like "Chp55" or so.
They will contain some solo aswell as faction missions with RP as rewards mainly.
HWS Connect 2.0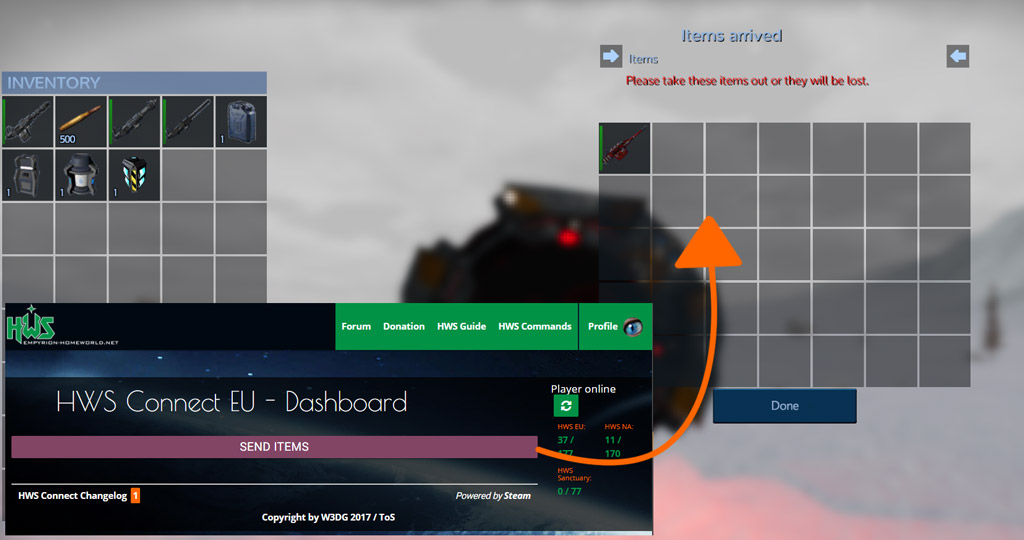 It's finally there, thanks to Jascha. All preparations are done and I only need to have some time, water, good music and some food to code it but yes, a new era of HWS Connect is coming where you can play the game over the website in a certain degree.
If some of you are interest go ahead and share your ideas but the "API" allows us for now:
change your credits (Bank or Player) over the website (adding or removing)
give you items over the website
(ex)change items in your OCD and their amount (adding or removing)
warp you to playfield W, at coordinate X,Y,Z
change your RP (adding or removing)
It's really huge. In my first "test pilot" I want first develop a kind of Daily Quests System (inspired by Hearthstone etc.). Like
Login once a day to HWS Connect to get +1RP straight away
Some Quiz questions like what ID has the Epic Plasma Launcher. If correct = +10000 bank credits
Continuous logins give you some items
Very plain and basic but you see the idea?
There might be more, way more options now, even one of my big 7.0 feature might be possible with this now…
However before you start idea storming keep of course the little disclaimer in mind:
There can't be too much "deep" interactions be made like a marketplace over the website because it only updates every 10 minutes. So if you would buy 100 items for 1000 credits because it's possible in that moment you could have emptied your bank in the game meantime and still would get the deal because we can't check all the time if the order you made is legit or not.
So restrict your ideas more to such simple stuff for now like mine above.
I know that later more complex stuff is possible like my planned stock market or interactive Hunter Board integration.
---
So yeah, most likely after my vacation a lot of cool stuff will happen before we full wipe. As you saw new planets for 7 will come (I work on some of them) so a full wipe is a necessary for sure but the timing will be again dependent on the Eleon team. So the best spot is for now "HWS full wipes as soon as 7.0 comes out".
With season II a lot of other things will change too.
The universe layout? Maybe, depends on your feedback about the current one.
Donator planets / Donator Space? Yes, they will come but with a special deal for existent planet donator aswell
HWS Story like only 3 Origins as mentioned in the HWS Survey? Yeah, although more feedback for that is needed
More to be announced
Let me know your feedback and thanks again for the support so far!
Really appreciated!
Your HWS Team