Hi HWS Community,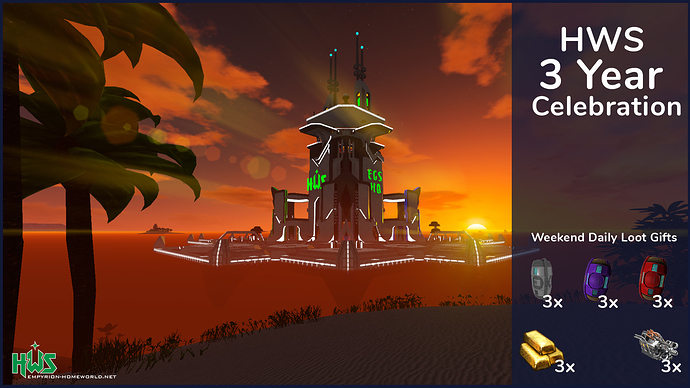 In Winter 2015 @Jascha & I met on a PvP server and learned how to work together to rule the Universe. (@smudgybear, thanks for the awesome fights!

)
We didn't know at that time that we will start a Server called "HWS | Homeworld Server" on 1th March 2016.
We also didn't know by then that our dedication in Empyrion would give 10 thousands of players an Universe they can explore and rule until today.
We both changed our real lifes in a lot of ways towards HWS, because there is nothing more satisfying than to see a Community growing with something you created with your own hands out of absolute nothing. We invented, we inspired, we never rested.
We are just speechless what 2 guys and awesome help from the community can create in 3 years.
So here we are, not knowing what the future will holds for us but we are unbelievable thankful for the last 3 years and that you were part of it!
Thank you!
To celebrate this moment with you there are some gifts for you over the Weekend!
Daily Loot Gifts for everyone
3x 1000 Gold Ingots
3x Auto Miner Cores
3x Alien Container for every Origin (happy trading / sharing)
Gifts are available until 03.03.2019 - 11:59PM.
HWS Support Package Discounts
30% Discount for all Packages on our Support Us page
Discount runs until 03.03.2019 - 11:59PM.
I grant a margin to bought packages the last 7 days. Contact me personally if you bought something the last 7 days and we do some exchange for the 30% with other packages / HWS Ingots / Credits / RP. No refunds though.
HWS Community vs RexXxuS & Jascha
Back to the roots we give you the opportunity to take your revenge on us nasty Owners!

Sunday 8PM server time we wait for anyone who is brave enough to challenge us on the Homeworld Planet on HWS EU!
Our only ally is the Metropolis City and one PvP modified prefab ship! We won't use any godmode cheater commands or do other unfair things!
However we have one Joker: we might call for help from Aliens! They told us they don't like you
There will be only one limit for the planet: no CVs and no BAses allowed.
The "Event" ends as soon as you killed us!
Everyone who participated and fights on Homeworld against us get a big surprise reward!
Big? Yes. Like big big? Yess. And how big? Biggg!
---
Have an awesome weekend and please stay tuned for the next season! I work day and night to implement a lot of nice gameplay elements for PvP and PvE!
Teaser: HWS Factory … EGS Stealth Upgrades … Mission Dealer …
Thanks again for being part of HWS | Without you all of that would not be possible!
Your HWS Team
Jascha & RexXxuS
P.S.: We would really appreciate a Patron Support to let us keep HWS as a full time job and have a kind of "regular" income and let us do HWS in its whole in the future — expanding also to other games for example.