Hello HWS Players!
As you may have gathered from some hints RexXxuS has dropped in some forum comments, the HWS Economy is going to be going through some changes in the near future. I am really excited about these changes and feel that if we get them right, that HWS will be an even more interesting universe to try to survive and prosper in. I wanted to take some time to talk about the changes and make sure that the community can help us get this right by giving us your feedback before all of the changes are implemented. Of course with all things, we will need to try stuff out and make adjustments as we go so please bear with us as we make these changes over the coming weeks and months. Please take some time to read this thread and give us your thoughts.
The Economy's Purpose
When thinking about the job the economy of the game has, I want to reiterate that Empyrion and HWS is meant to be a survival PVE building game with PVP. We are not trying to make an economy simulator. The economy of HWS should support gameplay and encourage participation in what the game has to offer. One thing I have been concerned about is unintended methods for abusing features in the economy to get an advantage. For example, before the recent NPC trader pricing and volume adjustments, it was possible to spend $490,000 and end up with $47,000,000 worth of materials. Things like this remove any motivation for a player to mine, raid POIs, or participate in PVP and we saw players listing millions of items that came from deconstructors rather than any other source which is not the intention of our economic features. One of the most important goals in changing the economy is to ensure players are motivated to go out and play the game and in return, get a fair reward.
Dynamic Pricing
As Rex mentioned already, dynamic pricing is coming! This means that the price of goods in NPC Trader packages and Racom trader goods will fluctuate and adjust based on HWS market transactions. The math for this will be a closely guarded secret to prevent abuse but hopefully this feature will bring fair pricing to everything in the game. This feature has been asked for by players as far back as 2016 and I am really excited to see it implemented. A huge thanks to @Hayawen is due for the work to make this real.
A Question of Balance
As dynamic pricing is implemented, the next step for me will be thinking about balancing the rewards the game gives across the paths a player could take. For one, I want to make sure there is a valid path to wealth in both a PVE and PVP players' progression. I also want to balance the game according to risk and reward/effort a player goes through. In starting to think about these things I have some questions for the community I'd like your input on. I can't promise this is the direction we'll end up going and even if we do, I can't promise we'll do everything as voted on, but the community input here will be very helpful in guiding this process.
Risk vs Reward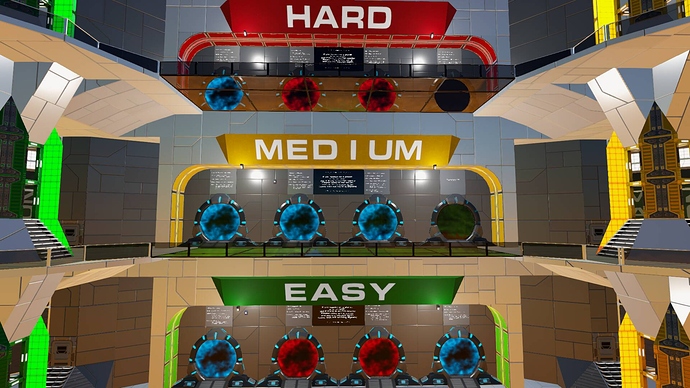 I am thinking of mapping the in game rewards in PVE and PVP activities across a scale of Easy, Medium, and Hard. Easy would be low risk (or easy to accomplish) and low reward and Hard would be the very risky (or very difficult) and most rewarding. Does balancing using an Easy Medium Hard scale make sense?
I broke this poll on accident. It had 70 votes and 90% were Yes for Easy Medium Hard.
Player Time
Assuming a player of average skill is attempting to make money at an average (medium) difficulty task. At today's value, how much money should they make after 1 hour of effort?
Under 10,000
Between 10,000 and 50,000
Between 50,000 and 100,000
Between 100,000 and 500,000
Between 500,000 and 1,000,000
Between 1,000,000 and 5,000,000
Between 5,000,000 and 10,000,000
Over 10,000,000
PvE
Please pick the statement you agree with most
Today's POIs offer good value and the right items for the effort
Today's POIs offer a fair value but the wrong items
Today's POIs offer too much reward for the effort
Today's POIs do not offer good rewards for the effort
Mining
I am wondering if mining is something that a player should do to get going and from time to time as needed or if dedicated mining could be a valid path to wealth. Please pick the statement you agree with most.
Dedicated selling of ores should be a path to wealth
Ore should provide the resources needed to do something else to get wealthy
Manufacturing
Should players who take raw materials and transform them into final products have help making money on that process from the in-game economy or should the price of final products be closely tied to the cost of the materials?
Yes, help manufacturing
Don't do anything special to help manufacturing, let the HWS market dictate pricing.
Economic Events
With dynamic pricing in effect, it would be possible for us to do server-wide economic events. For example, we could declare "The Zirax are going to war and need Iron" and adjust the dynamic pricing of Iron in the server to be more valuable, meaning players would be encouraged to mine and sell Iron to make a profit and the cost of items containing iron that the server sells would artificially inflate. This would last for a short period of time and then change.
Let's try economic events
Don't do economic events
PvP
Part of the fun of PvP is simply doing it. Players who want to fight and compete don't nessecarily need an economic reward for doing it, which we understand. With that in mind, PvP should still provide an economic reward especially for factions who are working together. However, my questions for PvP will come later since balancing for PvP includes other changes.
NPC Traders
Player paid NPC traders have been a bit tricky. I've noticed a couple of different uses for them and a couple of ways they have been abused. I'm wondering what we think their purpose should be.
PICK ALL THAT APPLY:
Other than dynamic pricing, don't touch NPC traders
NPC Traders should be for "In the moment" packs like a pack of SV Ammo for a single fight.
NPC Traders should be for basic goods like ores, medicines, food, fuel.
Its ok if an NPC Trader contains more of a single item than an individual player could use in a season.
NPC Traders should be for advanced components like XL Thrusters and T2 Generators
I have wondered if we should ban advanced components like BA Artillery, XL Thrusters and T2 Generators. Since they are so densely packed with resources, will it give an unfair advantage to wealthy players once dynamic pricing is implemented or have they earned it? Also, does it take away from players who could provide these components on the player market? Do NPC Trader packs like these make PvP too easy to do?
Ban advanced components
Keep advanced components
Other Comments?
Leave me your thoughts below. After we balance income in the game, we'll be able to do additional tuning which I'm looking forward to diving into after all this.
Note: I have not commented on inflation or the money drain issue. My first set of goals is to have an underlying system that we operate the economy on. From there we will learn how to manage it.