Hey Communitty,
It's been a few days since 5.0 was release and so slowly over the coming weeks will start to embed more of what you guys want to keep you occupied in 5.0
This includes the introduction of Random Alien base spawns (which is temporary on hold due to the F5 drone easy looting)
This will include Alien BA popping up all over PVP, There is no specific place to go…however, Alienworld being the home might be the best place for guaranteed POI

Some bases will be total destructible and some others maybe not, We will still try and force alien fights no easy F5 sneakiness as the rewards are great, We know Epic weapons is important and we want you guys to be able to generate RP so Aliens being the key to the technology it is likely they will have them somewhere within the bases…
The idea behind this is that not all players like PVP but like to take on Aliens and POI so this way they wont be dried up in a week and can always offer new exiting POI.
Like i said, for a short period this is delayed for the players that have no intention to fight the aliens just F5 invincible drone and sell the items on for silly prices.
Wait for an update on this soon

One feature that will be incorporated from TODAY is HWS Missions
The principle is very simple
There will be things going on in the universe that allow you to get actively engaged in role play and challenging but rewarding missions.
A new post will be created called 'HWS Missions'
here you can see any current missions. They will sometimes be available only to certain Origins. Sometimes open to all. Some will have No time limit some may have a few hours to complete. You will always be given notice about when if a mission starts/ends at a particular time so you can prepare. One that maybe ongoing, Maybe take days due to problem solving, investigating and clues for example may be released at any time with little information. You will have enough to start the mission but will have to figure the rest out yourselves.
We will leave the most crucial information such as the location of specific missons in game at your appropriate Origin Mission board found on your Origin planets.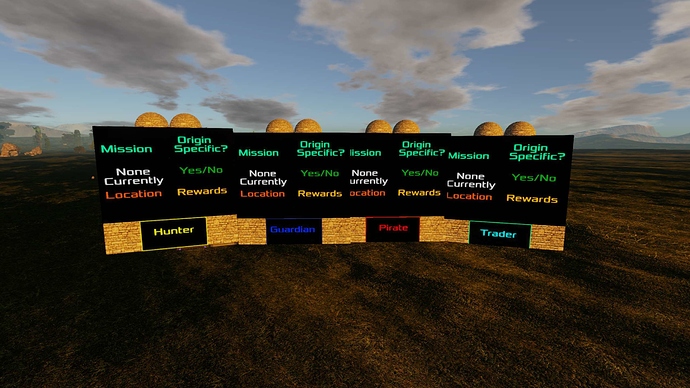 The missions cannot be completed by all, They will be open to all but ultimetly the player/faction that completes will be the one to get the rewards…its a competitive universe out there

Keep your eyes out for the first mission coming very soon

your HWS Team