First off i cant say thank you enough to @RexXxuS and his team for giving us the chance to test the new changes on the Nova server. This gives us a great opportunity to play with the upcoming changes with out having to grind for days to get materials and deal with long blueprint times.
Would also like to thank the guys that came out last night night and helped with these test, We had more but the server seemed to have a few hiccups last night any way down to business,
The New Meta:
Lag Shots still exist (I did not get a chance to record the fight where this happened but i believe @Xanif has footage)

Class size changes, The old 20k block and 500 devices limit is now a class 6 ship. It does not matter if you use white spacing blocks or just all cube blocks placed against each other.

Block count in a class size is now an unknown number. The new formula for calculating class size has to many variables to say "X" amount of blocks and "X" devices is a class 3. (ex 1 core + 1 block + 148 lights = Class 3 ship)

Block Count now includes devices (ex 1 core + 1 Cockpit + 1 block = Block count of 3)
Here is a short video of the first round of testing on 5.1 last night. (BTW my editing skills are not very good) The over all goal is to see if we can pinpoint what is causing the massive FPS loss during fights and create a fun and balanced PVP experience.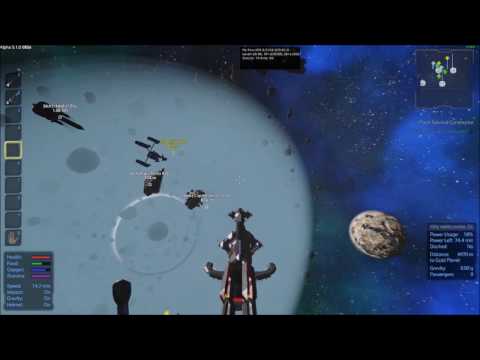 Our first test last night starts the video we used 5 class 6 ships and 1 class 4 just flying around in space trying to set a baseline with turrets off. At about the 6:00 min mark we go turrets live in a 3v2 duel. The frame rate just becomes unplayable at this point. During this fight we did have two people disconnect around the 8:30 mark, everyone shut turrets down and waited for FPS to recover. (two and half minutes before FPS got better)
The next test was a 1v1 duel with a class 4 vs class 3 ship. (11:50 min Mark) While the game was playable at this point FPS still were not the greatest avg 15-25 fps and still getting some stuttering at about 17:50 i end up becoming desyned and have to relog
Tonight we plan to do some 3v3 battles with Class two ships to see if we can gain a better PVP experience and also want to do some testing with removing turrets such as cannon, mini gun, and flak to see if all those turrets trying to target are creating the FPS drops. Please feel free to jump in the test server and come out to do some testing its a great chance to help make the game better