Dear HWS Community,
after more than 6 years, a big change/feature to OCD and OAM, our oldest features, is coming - for both HWS+ and HWS RE. The change aka feature has a big impact, so I want to make sure to announce this very long time before we activate it. To collect feedback and for you to learn about it.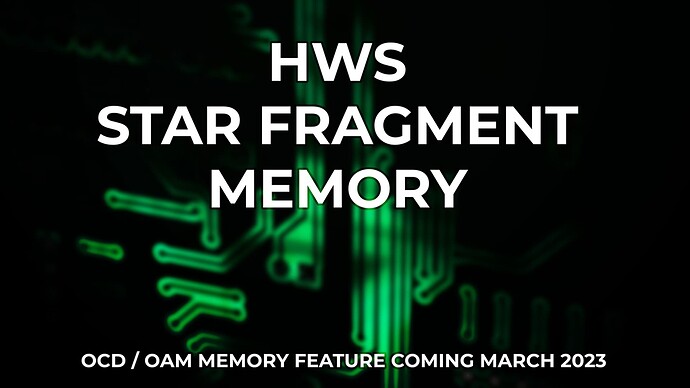 Star Fragment Memory Feature
The goal of this feature is to reward active players, give players overall a reason to come back to HWS and fight effectively against inflation.
Active players are what keeps HWS growing and alive in the first place.
Active players shape and form HWS, the economy, everything.
Any game or server relies on an active community.
On the contrary, inactive players had until now the big privilege to come back to their full OCDs and OAMs and continue exactly where they left off, even after many years.
The biggest issue with that is, that while active players are working with their OCD and OAM, inactive players, coming back after many seasons, got out of touch with economy. Carbon for example was very easy to get in the past and now it isn't. Coming back with an OCD that is not updated to this economy change, causes some global imbalance and gives totally wrong assumptions of the resource value in question.
Sometimes so big, that we have to do hard wipes of items in the OCD ourselves as you know. But we can't and don't want to do it regulary.
Also, as many of you know, the Orbital Cargo Drone caused some discussions here and there. Some want it to be wiped every season, others don't want it at all and others again don't want to hear about any change regarding it in the first place, because they hug and love it.
Fact is, I can't make everyone happy, but I think I found a good solution with this feature (and on HWS+ with the seasonal price change of one random Ore, the Elements and the conversion at T.E.A.M.)
How does it work?
As the name suggests and part of the reason why they are in RE now: the Star Fragments play the key role in this feature.
If players collect 7 Star Fragments per season, they do not lose anything.
The less they collect, the bigger the loss - reflected in a HWS Star Fragment Memory variable:
7 Star Fragments collected = 0% OCD & OAM content loss
6 Star Fragments collected= 2* % OCD & OAM content loss
5 Star Fragments collected = 3* % OCD & OAM content loss
4 Star Fragments collected = 4* % OCD & OAM content loss
3 Star Fragments collected = 5* % OCD & OAM content loss
2 Star Fragments collected = 6* % OCD & OAM content loss
1 Star Fragments collected = 7* % OCD & OAM content loss
0 Star Fragments collected = 10* % OCD & OAM content loss
The Legendary Category is not affected by any %-loss.
OCD slots are an integer. A full number. Not a float number like 1.3.
Which means, 20% of 1 is 0,2. In terms of integer number we round up.
Which means 20% of 1 is still 1.
20% of 2 is still 1 (cause 20% of 2 is 0,4).
the 20% would only kick in for items >= 3.
Example
If 1 player collected in 1 season 7 Star Fragments, he won't lose any OAM/OCD content. No changes for him at all.
However if 1 player collected only 2 Star Fragments, he will lose 15% of his OCD and OAM content at the start of the next season automatically.
*Numbers are up for feedback. Too high / too low?
We can also implement that players with 0 Star Fragments collected lose 1 OCD/OAM level but this is probably too hardcore?
Some more bullet point infos:
Many players sent me feedback over the years, that OCD ruined the fun for them and I should add a %-wipe each season. I think this here is a good compromise.

Players who think OCD/OAM spoils the fun but are too addicted to put stuff in the OCD/OAM, can now actively ignore the Star Fragments / deactivate it as Patron, to get their OCD cleaned automatically step by step.

as Master and up Patron you are excluded from this feature/change automatically for the current season

there will be a Support Package for real money and for free (HWS Ingots) that will exclude you from losing anything in the current season as well (if don't want to bother with finding Star Fragments at all).

Star Fragments provide big rewards already and get buffed even more in following seasons

as you see, Star Fragments become an absolute core feature. Especially on HWS+, where some Star Fragments are on PvP planets, PvP gets the absolute biggest push and incentive imaginable. Controlling someone's else OCD if you will. (I will listen to the feedback of the Community about that. Maybe RE want also Star Fragments in PvP?)

I plan to activate this feature on March 2023. So the season that starts on March 2023 will count towards the Star Fragment Memory and at the start of the season at June 2023, players will lose their OCD/OAM content, if they didn't take care of the Star Fragment Memory feature in the March-June season.
TL;DR: For players who always collect all 7 Star Fragments per season (basically play actively on HWS), can ignore this announcement completely… kinda.
---
I hope I could explain everything clearly. If not, feel free to reply to this topic - constructive feedback is always welcome.
Your HWS Team