I feel that one of the recent innovations that RexXxus introduced to HWS connect is the player kill board (league table).
For some players the competition to top the table in their respective server is motivation for playing on HWS on its own. (It is just one of many ways to enjoy your unique HWS experience).
For fun I have posted the top ten standings on both EU and N.A. servers at the end of last season (7.0). I will post the latest standings each week in the current season to this thread so we can track the progress of the most feared individuals on the servers. (perhaps some spreadsheet anaylis may also be fun…)
Anyway, good luck to all who are fighting to top the leader board - and for everyone else, make a note of these names, as they may be after YOU!

EU server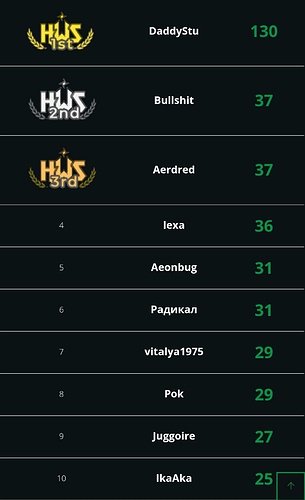 N.A. server