======= NOTICE FOR HELP =======
What happened?
=> Player - Chaotic occasionally calls me "lil willy" I politely asked him to stop twice.
Player(s) with issue? (steam name)
=> WillEatsPie
Server? (EU or NA)
=> NA / Discord
How can we help you now?
=> I have a really bad feeling this is about to turn into Forum Wars 3.0, which is why I will NOT be responding to ANY replies and I suggest everyone else do the same. Hopefully there is a swift verdict on this - maybe it doesn't violate rules - and there isn't a forum fight below.
The rule broken: 2. Toxicity, rule 2.1 specifically. I'm only reporting it here because it specifically says to here 3. Behavior & Chat
I have attached screenshots below, I have no proof of prior name calling - in HWS server. Photos attached below. I would also like to point out that I did respond - only to ask him (and NuclearDeaths) not to, but the rules say not to respond and I did so I may deserve the same punishment.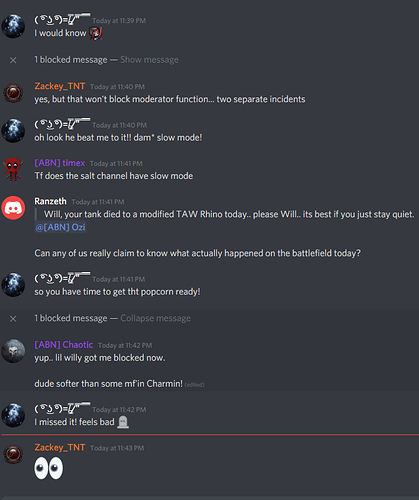 Part 1 Part 2 and Part 3 are uploaded in proper order. I blocked Chaotic because the rule says to, but I can't just ignore people's replies so I looked at them, the rule didn't say anything about that.