Dear HWS Community,
Prologue
Ravien and Vermillion are about ready to release their big Reforged Eden v1.5 Scenario.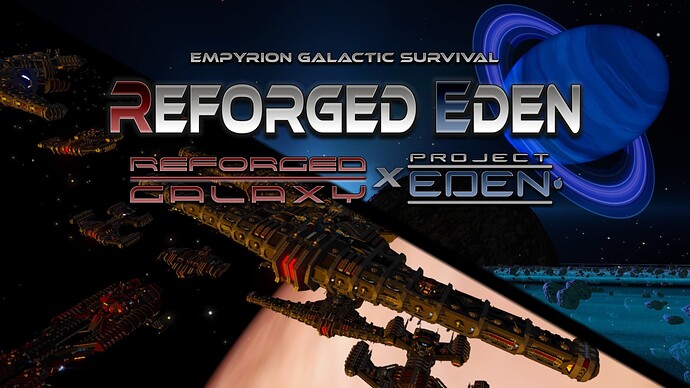 It is going to be somewhen this week or the one after (depends on bugs found etc.)
It's the best pre-announcement I can make in such a scale.
That means you should prepare for the full wipe and be ready any time in the timeframe mentioned above!
This is very important because we can't wait for you or do item deliveries after the full wipe, because you missed it. Everything that is not in your OCD or covered by Keep xxx packages is lost!
Full Wipe procedure
As always, please have a look here first, what a full wipe means, what you keep or lose.
Since this Scenario is not done by me I don't know if Ravien makes a 24hours pre-announcement about the release. So as I said, I can't give you a more accurate date and just prepare already.
Nevertheless I try to ping you in Discord and here in the forum whenever I know more.
Full Wipe Discount
As always a 20% Support Us Discount just started, until the first day after the full wipe.
Reforged Eden Changes
Those guys were very busy and added tons of changes.
For those please have a look here:
and here:
HWS Reforged Eden Changes
The current HWS RE season took already longer than expected. We started the season on 1st March and broke our 3-month cycle too.
This means that we gathered a lot of information though (with a savegame folder size of over 60GB - biggest size in 5+ years HWS)
The biggest issue with running Reforged Eden on a populated server is the insane size and data it produces. This causes didsconnects, ship losses and other side effect bugs.
We try to optimize your experience in the next season with that knowledge and go back more strictly to our 3 month season cycle again.
The special thing about this full wipe is, that it is in little conflict with the HWS+ EU/NA patch coming soon. Conflict in terms of timely order. Since I don't want to have two completely different feature sets for all 3 servers, I also don't want to teaser too much yet.
HWS Origin Changes
The full details will be explained with HWS+, as well as the full spectrum of Origin changes. But for HWS RE 1.5 you have to keep in mind following key changes:
HWS Reputation Points (HWS RP) will be renamed to HWS Origin XP to finally stop confusion about RP = REP and Reputation Points of NPC factions.
A teaser from HWS+: the arbitrary Origin names will be reworked to "Classes". The second thing Eleon just ruined for HWS by grabbing our ideas and adding Factions and Reputation Points themselves. To stop confusion why Origins are similar classified as NPC Factions we make a cut.

Renaming Prototype to Dealer (it will become a fully fledged out Origin with their own HWS Origin XP gains in HWS+)
Renaming Freelancer to Explorer
Renaming Federation to Engineer
Renaming Outcast to Fighter
Those new Origins will have their very own specific abilities, advantages and disadvantages in HWS+! For HWS RE 1.5 though, it will mostly stay the same for now.

The Alien Sacrifice will be reworked as well in favor of less confusion and player conveniences. All Origins will get their own custom Origin weapons and own Origin XP item, that gets converted (injected in their blood) - instead of the weird Alien Containers, that served good for 5 years though.
The Exploration Reward for discovering a new playfield will be temporary turned off in HWS RE 1.5 to fight the performance issues with people doing this non stop.
In return more HWS Origin XP Missions will be available to play.
HWS RE OCD Changes
Again, since this Scenario is not made by me, it's hard for me to evaluate what items should be put in what OCD categories. With your help I want to tackle this and keep the focus on replayability but still rewarding feeling of the OCD.
Since this is our first time categorizing items, I also wanted to do it at the end of the season when almost everything is explored and used by you.
A first draft (thanks to @Bob) would be following:


If you think some other items needs to be categorized or those needs shifting, comment below please with your own Excel sheet preferrable.
Reminder: to categorize items means different OCD stack sizes. See here.
PvPvE
HWS RE will still be labeled as 99,99% PvPvE, with the 2 only PvP Playfields in the whole universe. We all know Reforged Eden is a Singleplayer, PvE driven Scenario but for those that do enjoy a bit of pewpew I will rework Golden Globe and Black Hole a little bit. At least I keep this "test" running until HWS+ comes out, a new, better PvP experience in general.
---
The biggest requested addition to HWS RE is the better integration of HWS Features, I know. Unfortunately it's all dependent on HWS+, so it needs a bit more time.
That being said, I at least wish you a lot of fun with the upcoming HWS RE 1.5 season and with all the new additions Ravien and Vermillion added!
Take care and thanks for your support and for playing on HWS!
RexXxuS