Hi HWS Community,
stressful days are behind me but I hope it is all worth it! I've heard tons of feedback I wanted to implement and improve your gameplay! On top of that working on more content for you!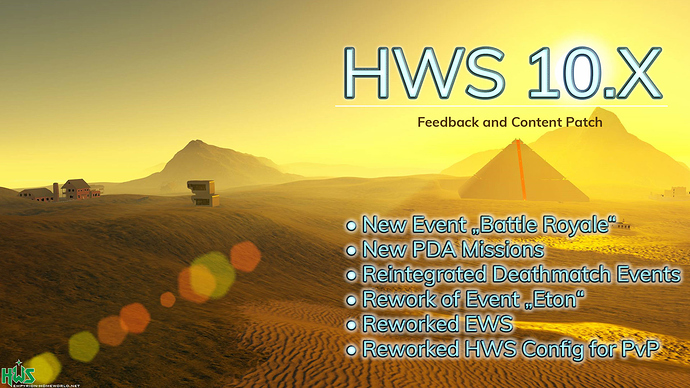 New Battle Royale Event
Inspired and request by the community a new Event is available on HWS EU and NA.
Some short info:
PvP Event with First Person Shooter and building HVs from scratch as focus
Loot and gather over 200 POI Houses along the way as quick as possible but especially: survive!
No blueprint spawning allowed. You can only build a HV via Elite Builders League (by hand) - boosted by non stop falling Meteorites and the POI Loot.
Up to 100 Players will get teleported randomly on the planet with the barest survival loot as start
The goal is to reach and contest the "Battle Royale Pyramid" (activate the levers outside to get inside)
Stay in the marked red area at the very end to count as winner and defend this Pyramid with your life!


The event is running daily and you have 2 hours - from 5:30PM to 7:30PM EU and 11:30PM to 1:30AM NA.
Event reward per faction/player is 1 million credits, 500k credits per player kill and 100 HWS RP
Thanks @Paxxo1985 for providing this Pyramid POI!
Note: Let me set it all up first. Fully available tomorrow.
New PDA Missions
Just the beginning of a lot of new PDA Missions. 2 new Missions for everyone but more coming which can only be played by Freelancer.
Drone Death Match
This is a Team Mission (up to 8 players) - integrated into a Stargate Mission at EGS HQ! So make sure you trust your Leader to share the reward loot with you

The other PDA mission is a reworked Pizza Delivery mission, a quicky

Rework of EWS & HWS Config
This is a bigger topic I tried to add comments in this post. Please read them here:
Eton Rework
As often said: Eton is a very cool Event benchmark, because it is played every day by so many players - PvP especially!
But I was never satisfied with all of my 4 versions so far.
So I want to try a 5th version, inspired by the Battle Royale Event type
"Reach the Position until the end"
The HWS Metropolis can't be destroyed anymore but required from you to invade the Tower (as before) and defend the upper room with your life!
Similar to the Battle Royale or Tower Jumper Event: if you succeed, you get rewarded!
For that the Metropolis got upgraded a bit.
First Person Shooter will now finally get their place on Eton and it's a cool atmosphere to hear the battle outside going on meanwhile some brave guys invading the POI!
Excited to hear your feedback about it soon!
Note: it will be active tomorrow. Just too late for today to setup all zones etc.
Reactivating the Deathmatch Events
They were actually missed which makes me happy!
So they are back - with all the new Garage ships of course!
I try to rotate them once again every time I remember to do it

The first rotation will do:
SV => Flatline
HV => Tempest
CV => Murcielago
Have fun!
---
Meanwhile I will work heavily on HWS 11 now - a new universe, tons of new content and massive boost to immersion and Story!
I push very hard and hope to see you around! Thanks for your patience in advance!
Your HWS Team