Hey @everyone,
after I'm back from vacation, did some hotfixes and important todo's, the big wave of new people going slowly down a bit

; I made a picture myself yesterday here and there it is time to become more serious.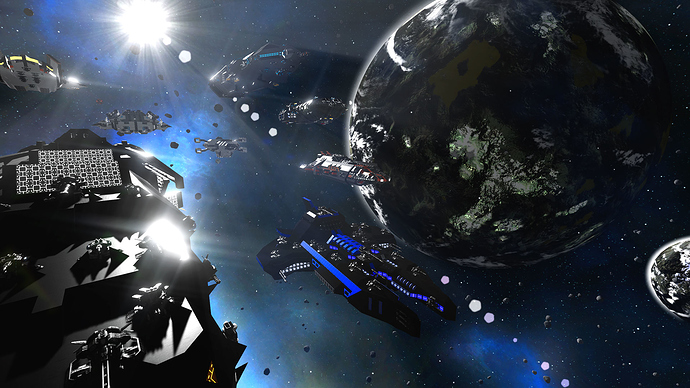 Limits on HWS
Think of real life: are there limits? Can you have hundreds of cars in your garage you can always drive or hundreds of houses around the planet you can always use? Or better to say: are all of these 200 structures free to use for you?
I'm pretty sure: no. They cost.
And since we have no Gold surface or free Gold deposit on Earth the cost to upkeep a lot of structures prevent this to happen.
What I want to say is: limits are needed. More than ever. Not only because we got hundreds of new members at HWS but also because the game Empyrion, does and will for quite some time not support so many structures on a server.
Calculating many blocks, Calculating Voxels, is something very challenging in programming and especially for such a small team at Eleon.
Officially, Eleon recommend MP servers with ~20 players. We have 170+. So it is "our fault"… we have to take this serious and grant for thousands of players a smooth experience!
To be honest I got negligently about limits. I took hater comments about "HWS = shit limits everywhere" or "limits = no creativity" too serious. Hence it got worse not better than previous seasons.
But it's time to go back to the roots, ignoring ignorant and silly comments because we know it better.
Example PvE
On HWS EU PvE has reached a critical moment. Strayom Sector is basically dead and maybe only a wipe can help here now.
The limits for some of these playfields are these as you know

The point here is not that "there is no place elsewhere" anymore. No, not at all.
The point is: big PvP factions are parking 10+ structures there and that it doesn't end with 1 structure in general. As soon as they get a limit of 10, all 10 are filled of course. And why has a one man faction 10 structures of some kind? Either private or faction?
But I said already, that I failed to setup good limits.
The point now is to ask YOU about your input to match it to my vision. And it is the point to ask YOU how bad the situation really is and if we can wait until the next season or not
(next season would "normally" start at 12th September)
New Limit enforcement now or later?
"Now" => 13th July (after one month of three)
"Later" => 12th September (after the full 3 month season)
Obviously, a clean and good cut would be the next season. But do you want to live in mass structure parking lofts for additionally 2 months with a lot of warnings?
Do you want to endure the current PvP slideshow for the next 2 month?
But… I can't promise that the new limits will give you smooth Full HD 3D moments overnight. I can just say by experience that the less structures and the smaller they are, the better the performance is for the players. I think many have that experience as well.
New HWS Limits
First Version / Idea before the discussion
First Version / Idea before the discussion

First of all: this is up to discussion and I value your feedback on every opinion here. But I will make the start with a suggestion, resulting by data I have and experience I got.

Global Limits Before (currently)

Global Limits After


(remember: the left column 1 + the middle column 1 = 2 faction bases for a one man faction for example)

New PvE Limits

At the moment I couldn't even do a good "before" > "after" comparison because limits are different in so many places.
To reduce the confusion and complexity my idea is as following:

All PvE planets except the RP reward Planets can have max. 1 private structure (of each type) and 2 faction structures
The RP reward Planets (Mars X and Earth X) can have 2 private & 2 faction structures
All PvE Orbits can have max. 1 private and 1 faction structure
For all limits count Class 7 as max.

New PvP Limits

First of all let's cluster PvP sections for easier naming:

Hotspot Orbits: Black Hole, Titan Orbit and Homeworld Sector
Hotspot Planets: Golden Globe, Titan, Homeworld, Desertworld, Iceworld, Lavaworld and Waterworld
Others: All the rest such as Alien Hatchery, Honore West, etc.

So the limits for them would be:

Private

Hotspot Planets: Only 1 private SV but 0 other type of structures
Hotspot Orbits: Max. 1 private structure of each type
Others: Max. 2 private structures of each type

Alliance

Hotspot Planets: max. 5 Alliance Bases | max. 5 Alliance CVs | max. 25 Alliance HVs
Hotspot Orbits: max. 2 Alliance Bases | max. 5 Alliance CVs | max. 25 Alliance HVs
Others: max. 10 Alliance Bases | max. 10 Alliance CVs | max. 25 Alliance HVs
(the Alliance base limit got positive feedback so far. We extended it for CVs and HVs. Please give feedback)

Faction

Hotspot Planets: max. 2 Faction Bases | max. 2 Faction CVs | max. 3 Faction HVs | 10 Faction SVs
Hotspot Orbits: max. 1 Faction Bases | max. 2 Faction CVs | max. 3 Faction HVs | 10 Faction SVs
Others: max. 5 Faction Bases | max. 2 Faction CVs | max. 3 Faction HVs | 15 Faction SVs

Class Size

Hotspot Planets: max. Class 1 of any type of structure
Hotspot Orbits: max. Class 1 of any type of structure
Others: max. Class 7 of any type of structure

ATTENTION: while this looks like rocket science it simplifies a lot and focus on performance
13th July limits
Also please keep in mind: I am honest here to say: we might address a different player group with this change for HWS than before!
That means that some players who love to build a lot and big, don't feel comfortable on HWS anymore.
We started HWS that way, drifted away but will come to this spirit again. Sorry if you leave us because of that but I go back to our root concept: rather grant a smooth and fun experience for everyone instead of cater only a specific group or ruin the gameplay of everyone by letting some people play "Minecraft" on HWS with mass and big buildings.
---
This is a first draft, maybe not 100% thought out but it's important to me that the spirit I want to achieve with the next limit patch is a different than before. Good or bad, we have to see.
But after I checked for some hours PvE and PvP yesterday I was shocked how bad Empyrion handles mass and big structures still.
Please let me know your constructive Feedback and suggestions.
And as always: stay on this topic, don't refer on your probably toxic history PvP and let's try to take the fate of a good Empyrion server in our hands.
Thank you!
Your HWS Team
P.S.: this here focus on limits first. The dedicated patch about balancing the new HV block, SV damage, HV damage, etc. is coming afterwards. Depending on the Poll result and overall feedback.