Hi HWS Community or better: Hi HWS Veterans,
The wave of HWS 9 teasers are coming slowly but
Please skip this topic if the amount of you're items in one of your OCD slot is not higher than 70 000!
In the history of HWS there were already tons of changes but one main spirit was always consistent:

Enhance the gameplay of Empyrion Multiplayer - of HWS!
That is why things got changed, have to be changed or will change! Especially with HWS 9, I mainly sit back for weeks now and thought about our features and their future. I know for certain that with the direction the game goes, that we also have to address few things.
OCD Normalizer
Some remember the day 7th June 2017 - here is a poke: HWS 6.0 | A new and exciting era begins | Welcome to Season I 2017 (SI17)
At that day I announced the OCD item slot amount nerf with a vast negative feedback. I knew it but still went the road. Why? Because I had to grant a balance. While there could have been tons of ways to go a different nerf road it was a quick one. Still we did not wipe everyone down to bottom.
I don't like slow approaches in general because my main job is not only balancing. The slower we progress at part A, the slower part B, C, D, E, F,…Z will be as well. HWS is a 1-2 man show.
Anyways, with HWS 9 we make that nerf "complete" to fix the overall balance for everyone on HWS.
Some veterans of HWS have for example stuff like this in their OCD at the moment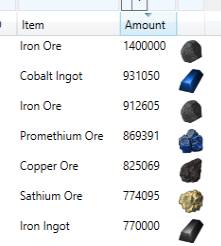 With HWS 9 following things will happen:
The > 70k slots from old players will be removed and set to the proper max. slots they can have regarding their level

The player get 1 credit per over-limit item (no difference between items are being made!*)

The player get 1 Reputation Point / 1000 per over-limit item

The conversation is payed out after the full wipe!
Example:
Player ASD has 700 000 gold ingots in slot 4 and OCD level 7
=> he gets 630 000 credits for that slot 4 (he keeps 70 000 Gold Ingots)
=> he gets 630 RP for that slot 4
Doing plain math it means that some veteran player have couple of 10 000+ Reputation Points at season 9. It means they can buy with HWS Ingots Planets and more.
*The reason why it's a 1-credit conversion is for one many veterans don't play anyways anymore and second you got 1+ year to make use of it and some didn't. Remember: hoarding is a misconception of humanity regarding safety


Third: again I announced it very early now, so you can make your decision to go for the RP boost or the items as long as you can.
Overall this step is required to have an equal mindset for the coming OCD rebalancement, which will be announced soon too.
That being said veterans, prepare yourself wisely.
Your HWS Team