Selling access to the Gida Star Fragment on NA for 75 million. Round trip. Contact me for details!
Paying 150 mil for the location of the Star Fragments in NA and EU

Discord: [ABN] Ozi#6380
I found the stars. If you DM me on discord, and you send me 100 million, it's yours.
EU once though*
I have 4 locations will sell them at reasonable price. Package deal you get all four locations. All proceeds go to NON faction a place for new players. If your new to the game look for us we accept everybody.
Paying 150 mil for the locations of future Star Fragments. Hit me up in discord!
if anyone is interested, 1st fragment on each server is on Homeworld (PVP), on EU is (still) freely accessible, on NA it is blocked off by ABN, if i am not mistaken…
I have a bit of feedback for the Star fragments.
First of all, most of them are located in PvP so it will primarily be veterans/rich people who get these fragments.
Some of us who have these fragments already have Elemental Bank level 10, and for the first time in quite a while Elemental Bank level 10 is actually worth it again for non-donators because of these fragments.
But after I've done a bit of math I realized that the only thing Star Fragments are good for (Regarding the extra bank interest) is helping you upgrade you bank earlier. So once you already have EB 10, then there's no reason to collect any more (except for the RP).
And you'd probably never need more than 1-2 fragments to upgrade your bank a lot.
So what I'm suggesting is to maybe give a bit of a bonus for each fragment. An extra percentage without limits like before is too much, but if some limits were added maybe it wouldn't be a bad idea.
Maybe it'd be possible to increase the interest limit by 500k or something per fragment. With 500k extra, then that'd mean if you have all 7 fragments you earn around 100 million extra per month. But it'd of course require a lot of work to get all 7. (This is for an EB 10 with max interest already)
If you want to do the math yourself I updated the Economy Utility Tool for alpha 12, so you can see what difference fragments make in there.
thx @RexXxuS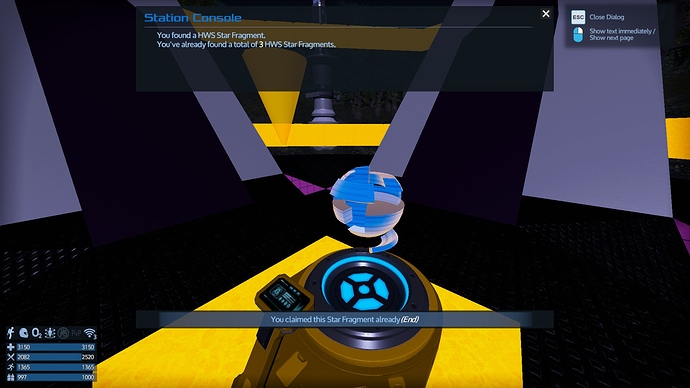 @Dr.Dark I agree with the added bonus but I think the stars play a large role in newer players. The rp for upgrades is huge, and the extra percentage for bank interest is perfect. With bank 10 if you have 3 star fragments your at 4% interest rate meaning you only have to have 100 million in your bank 10 to get the 4 million interest everyday. So with every level you have to have even less money in the account for the interest making lower level players with only the first 5 levels of bank worth it big time. This also keeps the rich from getting even more rich. Giving newer players an advantage is a solid thing. Just using interest and running missions in two weeks I've went from bank 5 to 10. I love the fragments and its a super good time looking for them.
just a question that occupy more than few of us; are we gonna get the last 2 shards this season to be able to get the OCD upgrade/bonus or this idea is abandoned in favour of next season?
The shards have been getting released faster and faster.
Only 4 days passed between the last shard and the one before it and I have been wondering the same thing about the last two!
Hey Rex!!..we gonna finish this star frag hunt??..i thought it was fun…
All Star Fragments have been spawned in the HWS 12 Galaxy.
They will return in HWS 13
---
I hope you enjoyed my idea. I think I know where the biggest issue with them came from and I will improve it.
Nevertheless let me know in #hws-general-discussion what you liked or disliked.