Introduction
HWS Traders are available via a support package and grant players a solid income by selling server-provided items to other players.
Players wishing to purchase HWS Trader packages will use HWS Connect where package contents and price info is available.
How it works for the Seller
Step 1 - Check HWS Connect
After you purchased the HWS Trader package, go to "Your HWS Trader" in HWS Connect

Step 2 - Rename your HWS Trader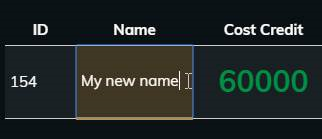 Step 3 - Add items to your HWS Trader

Step 4 - Submit your HWS Trader
The price for Credits and RP as well as the quantity is calculated automatically and can't be changed. Max. 49 slots is a fixed value as well.
@RexXxuS just have to approve your package and all is done.
In case your HWS Trader got rejected you will see a message:

Content Package Details

Package Credit Prices

The price is dynamic. Each item has a different listing price. The price is calculated by the HWS Marketplace. The higher the demand, the higher the price.

Package HWS Reputation Point Prices

The HWS RP price is also dynamic. It depends on your total credit price. The rate is 100 000 credit price = 1 HWS RP.
How it works for the Buyer
Buyers spend credits and RP to buy HWS Trader packages

Buyers will use HWS Connect to purchase the packages with just a button click. Packages will be instantly delivered if he is in PvE or in a trading zone, but the Buyer must be online / ingame to accept delivery.

Read the different Origin descriptions to find out how many packages your Origin (you) can buy per day.
Additional Information
The package can only be bought in a trading zone or globally in PvE

Whenever a package is bought, the Seller get 50% of the full credit price.

The HWS Trader will be active and available as long as the Seller is active (played the last 7 days). This applies only to the Server where you have an HWS Trader!

The Seller can't buy his own packages

Depending on the game updates or economy, the prices may change

The Seller can change his package content once per week - just resubmit your HWS Trader in HWS Connect

A Maximum of 4 HWS Trader supporter packages per server, per player, is available for purchase.

HWS Patrons have the benefit to get their HWS Traders listed above Non-Patrons. They are marked green in the list then.
This topic will contain a table of contents